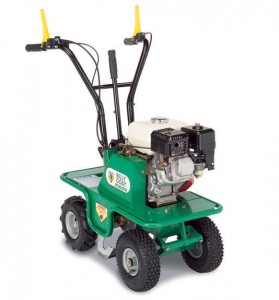 Looking to buy a Billy Goat sod cutter? There's no doubt that they're built with the same durability, easy servicing, and attention to detail that makes their other machines easy to use. With two models to choose from, which one is right for you? At first glance, it may seem that the SC 181H is simply larger than the SC 121H, but these devices take completely different approaches to sod cutting.
SC 121H
This sod cutter is built for low weight and simplicity. Powered by a Honda GX-series engine, it cuts sod into strips that are 12 inches wide and up to 1.38 inches deep. Total weight for this cutter is 161 lbs, about half the weight of comparable competitors' models.
The SC 121H is self-propelled, using a geared transmission with two forward speeds. Four wheels mounted on the corners of the cutter provide more stability than three wheel models, while cutting depth can be adjusted by moving a single lever.
Before using this sod cutter, the ground must first be moistened to allow the blades to cut through the soil. For this reason, it's best used on landscaped turf.
SC 181H
The SC 121H may be built to be lightweight, but Billy Goat boasts about adding another 50 lbs. to the SC 181H to handle a new, more powerful cutting system.
This sod cutter is powered by a Honda GXV160 engine and cuts sod in strips that are 18 inches wide and up to 2.5 inches deep. Like the SC 121H, cutting depth is set with a single lever.
The 181H has a hydrostatic transmission, allowing the engine to run at the optimum speed to power the cutting blades regardless of how fast the sod cutter is traveling. The drive system is controlled by the same fingertip lever system found on Billy Goat overseeders and brush cutters. If you've used these devices before, you'll have no problem controlling this cutter. Even if you're new to the system, its intuitive control makes it easy to learn.
The SC 181H is supported by a wide roller up front and a caster wheel in back which can be left to rotate freely for turns or locked into place to keep the cutter rolling straight.
The big engine, strengthened frame, and thick stability bar let this model cut through any type of soil from manicured golf courses to hardscape.
Which One is Right for Me?
If portability is a priority and you need to cut sod from well manicured lawns, the SC 121H is the perfect choice. Its low weight makes it easy to transport, yet it provides plenty of power to make quick work out of soften soils.
If power is everything, get the SC 181H. Its heavy duty cutting system and hydrostatic drive give it the power to cut through just about any type of soil.
Getting Parts for Billy Goat Sod Cutters
Whichever model you choose, you can get everything you need to maintain and repair your Billy Goat at www.billygoatparts.com. We're a certified dealer for Billy Goat and Honda, which means we carry replacements for everything on your sod cutter. Our site has built-in factory parts diagrams and descriptions to make it easy to identify what you need, and we can ship your order anywhere in the U.S. and Canada.