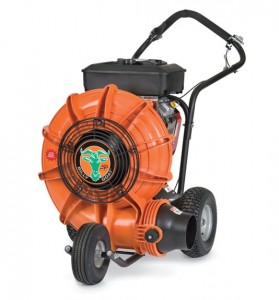 When it's time to do some serious yard cleanup, Billy Goat's line of wheeled blowers help take a lot of the time and effort out of the job. From their advanced plastic construction to their commercial quality motors, these blowers are built to make clearing leaves, clippings, and other debris faster and less strenuous than their competitors.
Building a Better Blower
Plastic construction used in the fan and fan housing results in class-leading total weight, coming in at around 30% less than a comparable steel blower unit. That means much lower fatigue during operation. The use of plastic also allows a bend-free fan design with 16 blades for smooth air flow. This eliminates air voids for lower noise and greater efficiency and eliminates rusting and denting that can stress the engine shaft while in operation.
Regardless of size, all models are designed with a housing and fan that works with the engine to reach an air velocity just below 200 mph. This air exits through Billy Goat's "Aim N Shoot" system, an outlet that can be adjusted with one hand, aiming the air where you need it.
Wheeled Blower Models
Whether you're a homeowner or handling municipal cleanup, Billy Goat builds a blower sized to your needs.
F6
Designed for small properties and residential use, this model is powered by a 6 hp Subaru motor. It uses a 16 inch fan that pushes air through a 3.5 inch outlet.
F9
Built for large properties and commercial use, this scaled up version of the F6 uses a 9 hp Subaru or Honda engine. This model is available in push versions with either engine or a self-propelled version paired with the Subaru motor. Whichever version you choose, the engine drives a 17 inch fan that pushes air through a four inch outlet.
F13
Built for contractors and municipal use, this blower is available with a 9 hp Subaru motor, a 13 hp Honda motor, or an 18 hp Briggs & Stratton Vanguard. It's available in push and self-propelled versions powered by any of the available engines. This model has a 17 inch fan and a 5 inch outlet.
F18
Billy Goat calls this "The Ultimate" for a reason: it's powered by an 18 hp Vanguard engine. The fan is the same size as the F13, but it uses a 6 inch outlet. It's available in push and self-propelled versions. A push version this big may sound difficult to move, but it only weighs 170 lbs. That's the equivalent weight of a metal fan blower with the same performance as the F6.
Where to Buy Parts for Your Billy Goat Wheeled Blower
www.billygoatparts.com is a certified dealer for Billy Goat and the companies who build the engines used in their blowers including Subaru Industrial Power Products, Briggs & Stratton, and Honda Small Engine Equipment. Our site has factory diagrams and descriptions built into it, making it easy to identify the part you need to fix your blower. We can ship anything you need for your Billy Goat to any address in the U.S. and Canada.