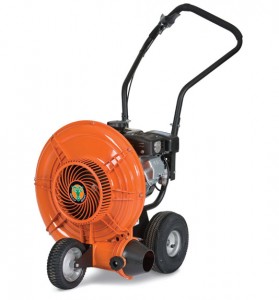 Do you need to clear leaves off a few acres but don't want to deal with the hassle of a residential leaf blower? Billy Goat's Force F6 wheeled blower delivers all the power, reliability and features of their big commercial push blowers in a package that's perfect for small properties.
Built for More Performance and Less Weight
The F6 uses a composite housing and fan, reducing weight by 30% compared to steel blowers. That means this entire blower weighs just 76 lbs. This low weight is paired with a 45 inch high handle, making it comfortable for operators of any height to use, letting them push the blower with less force while walking fully upright.
Composite construction also lets Billy Goat make a housing and fan that is far more efficient. The chamber is perfectly round, removing air voids to reduce noise and engine-stressing turbulence. The fan is closed faced to mate up with the housing and has 16 blades instead of the usual 8 to push more air. The end result is an increase in airflow and a decrease in engine wear, making this blower more effective and longer lasting.
Designed to Do Jobs Faster
The F6 has a 16 inch fan which pushes air through a 3.5 inch outlet. This outlet is at the end of a Billy Goat-exclusive Aim N Shoot nozzle which can be swiveled into position with one hand to aim the air exactly where you need it. Billy Goat also offers a forward discharge elbow for cleaning around walls and fences as well as a 10 foot long hose kit for directing air in hard to reach places. That means you can use the blower almost anywhere.
Accuracy may make the job easier, but where this blower shines is its sheer power and speed. An F6 has more than twice the airflow of the most powerful backpack blowers, cutting job times by 40%. Switching from a hand-held blower? You'll find you can do the job in less than half the time.
Models
Most backpack and hand-held blowers use two stroke engines, bringing added hassle with starting and fueling as well as a shorter service life. Since the F6 supports its own weight, it can use large, commercial quality engines. Billy Goat offers two versions of this blower to let you pick your preferred engine:
The F601S is powered by a 169 cc Subaru EX engine.
The F601V is powered by a 205 cc Briggs & Stratton Vanguard engine.
Aside from the motors, these two blowers are identical.
Warranty
Billy Goat guarantees the blade and housing for one year and the rest of the blower for one year of commercial use or three years of residential use.
Getting Parts for Your Billy Goat Force F6 Wheeled Blower
www.billygoatparts.com is a certified dealer for Billy Goat, Subaru Industrial Power Products, and Briggs & Stratton, making us your one stop shop for all the OEM parts you need to maintain and repair your blower. Finding the right parts is easy, too, since our search engine has factory diagrams and descriptions built in, letting you see exactly where a part fits and what it does. We can ship parts and accessories to your door whether you live in the U.S. or Canada.