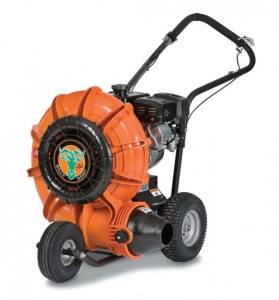 Billy Goat's Force F9 wheeled blower is the perfect tool for commercial users and home owners with large properties who need to clear leaves and other debris quickly. Lightweight construction and high velocity air let this blower clear land faster and with less fatigue than other blowers.
Built to Be Faster and Easier
If you've owned an older blower with a metal housing and an 8 blade fan, you'll be in for a surprise when you first use the F9. The housing is cast from a high strength composite, creating a perfectly smooth air chamber. This greatly reduces turbulence, allowing the engine to move more air while reducing vibrations that cause noise and stress on the driveshaft. This design also allows a tight seal around the fan for better flow, which Billy Goat takes advantage of with a plastic 16 blade fan with closed faces to further increase output. The result is a steady air velocity just below 200 mph from the 4 inch discharge outlet.
Air exits Billy Goat's patented Aim N Shoot Nozzle. By moving a thumb lever on the handle, the nozzle can be moved up and down for blowing debris in flat, open spaces, next to walls or even into piles, cutting the time it takes for pickup.
This blower isn't just powerful, it's easy to use. The commercial four stroke motors Billy Goat offers in the F9 are far quieter than the two strokes found in hand-held and backpack blowers. The plastic construction keeps weight low, while the handle is ergonomically designed and has thick padding for all day comfort. Opt for the self-propelled version, and you can cover as much as 30% more ground per day.
Models
Billy Goat offers the Force F9 in three versions:
The F902H uses a Honda GX260 engine. It weighs 139 lbs.
The F902S uses a Subaru EX engine. It weighs 130 lbs.
The F902SPS comes with the Subaru engine and a self propulsion system. It weighs 143 lbs.
Aside from the engine and drive system, everything on these models is the same from the handle to the fan housing.
Accessories
If you need more maneuverability, Billy Goat offers a kit to mount the front wheel on a caster. For working on difficult terrain, there's a foam-filled front tire for rolling over rough ground and a parking brake kit that keeps the blower stable on hills.
Want to save time loading your blower? The quick hold down kit mounts to your trailer, letting you lock the F9 into place for transport.
Warranty
Honda guarantees their engine for three years of commercial use, while Subaru backs their motor for 5 years. The housing on this blower is backed by a 5 year warranty from Billy Goat, while the rest of the machine is guaranteed for two years.
Where to Get Parts and Accessories for the Billy Goat Force F9 Blower
www.billygoatparts.com is a certified dealer for Billy Goat, Honda, and Subaru, so we can ship anything you need to keep your F9 working to any address in the U.S. and Canada. Finding the parts you need is easy thanks to our advanced search engine that has integrated parts diagrams so you can see exactly what you're ordering and where it fits on your equipment.