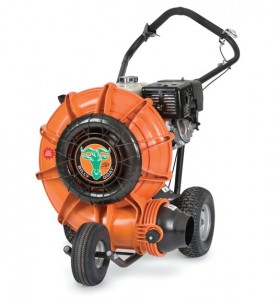 The Billy Goat Force F13 wheeled blower packs the power you need for tackling commercial-grade jobs, making it a great choice for taking care of parks, golf courses, and schools as well as cleaning off surfaces before landscaping and seal coating.
The Technology to Clean Faster
The F13 is built for big power, and that power isn't just from the engine. The fan housing is made from a composite that is single shot cast, forming the chamber and support ribs as a single unit for strength. This also enables a perfectly smooth, rounded interior that eliminates areas of turbulence and air stagnation that are present in metal designs. The uniform shape allows Billy Goat to use a composite fan with 16 blades and a closed face, further improving airflow. The end result is more air movement from the power available as well as decreased vibration, reducing the wear on the motor. The F13's 13 hp Honda GX400 engine can use this advanced fan design to maintain air velocities near 200 mph through its 5 inch wide discharge opening.
The Aim N Shoot nozzle allows the discharge to be raised and lowered from a control on the handle, aiming it for cleanup on flat areas and near obstructions as well as piling up debris for pickup. A forward discharge elbow is included which snaps over the discharge opening. This makes it easy to clean along walls and fences.
The plastic construction also makes this blower much lighter than a comparable steel model, making it easy to push. The optional self-propulsion system can increase movement speeds by almost 1/3, cutting the time it takes to complete jobs.
Models
The F13 is available in two versions: the standard 152 lb. F1302H and the self-propelled 165 lb. F1302SPH.
Accessories
If you need to use the F13 on rough terrain, there's a foam-filled front tire that rolls more easily over rocks and branches as well as a parking brake that clamps down on the rear tires to keep the blower from rolling when parked on a slope.
Need to navigate around landscaping and fences? Billy Goat makes a kit that converts the fixed front wheel into a caster-mount wheel for easier turns.
Want to make the F13 a regular part of your equipment? The quick hold down kit attaches to your trailer so you can quickly load and lock down the blower without having to use straps.
Warranty
Honda backs the engine with a three-year warranty, while Billy Goat guarantees the blower housing for 5 years and the rest of the blower for two years.
Where to Get Parts and Accessories For the Billy Goat Force F13 Wheeled Blower
www.billygoatparts.com is a certified Billy Goat and Honda dealer which means we carry replacements for everything on the Billy Goat Force F13 blower. Our site has factory diagrams and descriptions built into it, making it easy to find exactly what you need to get your blower running again. We can ship your order anywhere in the U.S. and Canada.