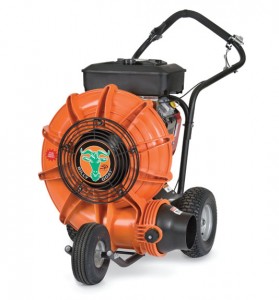 The Billy Goat Force F18 wheeled blower is practically in a class by itself. It uses an engine normally found in commercial lawn mowers to drive an advanced composite fan delivering an enormous amount of high speed air. The end result is more power than nearly anything on the market in a package that's quiet and easy to use.
Better Living through Plastic
A metal grill protects the fan from incoming debris, but the housing is made out of a composite. This lets Billy Goat cast the housing to get the perfect shape, eliminating air voids and other causes of turbulence present in metal housing. This is paired with a 17 inch wide 16 blade fan with closed faces, providing maximum surface area for performance. The end result is greater efficiency and less shaft vibration for longer engine life while delivering more power. Despite a massive 6 inch nozzle, this blower can maintain air velocities just below 200 mph. It's also far less noisy than backpack and hand-held blowers despite its superior performance.
Built for Ease of Use
A 10 x 3 inch pneumatic front tire and 13 x 5 pneumatic rear tires make this blower easy to move on any surface. A tall, slanted handle removes the need to bend over while operating this machine while giving the operator a clear view of the work area.
Air exits the blower from an Aim N Shoot discharge nozzle. The nozzle can be aimed using a control on the handle, pushing the air exactly where you need it. This lets it move debris in open areas, near walls, and into piles for easy pickup.
The F18 is powered by an 18 HP Briggs & Stratton Vanguard engine. This engine has a proven reputation for reliability, being used in everything from commercial mowers to many of Billy Goat's own large scale commercial products. The blower's design leaves the motor fully exposed for easy servicing.
Billy Goat offers this blower in two versions: the push F1802V and the self-propelled F1802SPV. Thanks to the blower's lightweight construction, these models weigh just 170 lbs. and 183 lbs. respectively.
Warranty
When used commercially, Briggs & Stratton guarantees the motor for three years, while Billy Goat guarantees the housing for 5 years and everything else on the blower for two years.
Accessories
Billy Goat offers four ways to customize the F18 to best fit your needs:
The caster wheel kit replaces the front wheel for greater maneuverability in tight spaces.
A foam-filled front tire is available for easier movement over rough terrain.
The parking brake kit keeps the rear wheels from spinning so that the blower can be safely parked on inclines.
The quick hold down attaches to your trailer, allowing the blower to be quickly locked in place for transport.
Where to Get Parts and Accessories for the Billy Goat Force F18 Blower
When you need something for your Billy Goat, visit www.billygoatparts.com. We're a certified dealer for both Billy Goat and Briggs & Stratton, so we carry all the parts and accessories you need to keep your F18 working at its best. Our search engine has factory diagrams and part descriptions built into it so you can quickly identify what you need, and we can ship your order to your door, whether you live in the U.S. or Canada.