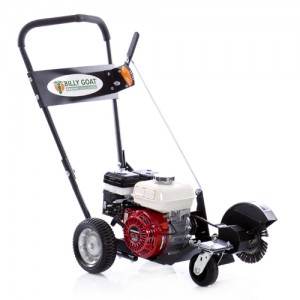 Before a layer of crack filler can be laid down for asphalt sealing, the cracks first need to be cleaned to ensure an even coat. Billy Goat's line of Grazor crack cleaners are the perfect tools for the job, utilizing a wide wheelbase, remote brush engagement, and a choice of reliable engines to remove vegetation, dirt, and debris quickly and safely.
Power
Two engines can be found in the Grazor: the GZ401H and its predecessor, the GZ400H. Bboth use a Honda GX120 producing four horsepower. The GZ451S is powered by a Subaru EX13 engine producing 4.5 hp.
While there are plenty of fans willing to debate the merits of Honda and Subaru small engines, the truth is that both of these motors offer similar performance and durability. The Honda uses an overhead valve head, while the Subaru has an overhead cam design. Both have several features to minimize noise and fuel consumption, and weight is similar with the Honda-powered models weighing 84 lbs. and the Subaru-powered model tipping the scales at 85 lbs. Honda guarantees their motor for three years of commercial use, while Subaru warranties theirs for 5 years, but both engines have proven to be extremely reliable when powering a wide range of equipment.
Performance
Cracks are cleaned using a heavy duty 8 inch wire brush. A remote declutch lever on the handle lets the operator turn the brush on and off safely and quickly, engaging it when over a crack and disengaging it when moving between cleaning areas. The pulleys are designed to provide maximum power while reducing sheave wear and providing easy engagement.
The brush height can be set to one of 6 positions, letting you choose between skimming the surface of narrow cracks or clearing out dirt that has collected in large cracks and expansion joints. No matter which Grazor you choose, you can expect to be able to clear five feet of pavement cracks in just 15 seconds.
Handling and Stability
All the power in the world won't do any good if the cleaner can't be steered to follow the cracks. The Grazor has a 19 inch wheelbase supported by 8 inch semi-pneumatic tires at the rear for stability and a 5 inch solid castor wheel that turns a full 360 degrees at the front for maneuverability. This wide tripod platform lets the Grazor be used at slopes up to 20 degrees, which should be more than enough to handle driveways, sidewalks, and parking lots.
Where to Get Parts for the Billy Goat Grazor
Whether you have a GZ400H, GZ401H, or GZ451S, you can get everything you need for your Billy Goat pavement crack cleaner at www.billygoatparts.com. We're a certified dealer for Billy Goat as well as Subaru Industrial Power Products and Honda Small Engine Equipment, so we carry OEM parts to replace everything on your cleaner from brushes to cylinder heads. Our site has built-in factory diagrams and descriptions for Billy Goat equipment along with stand-alone diagrams of equipment and engines so you can be sure you're ordering the right part. We can ship whatever you need anywhere in the U.S. and Canada.