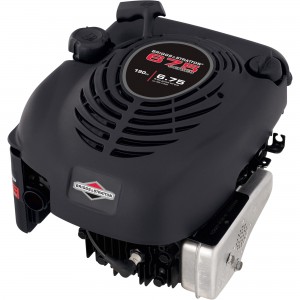 Billy Goat offers a wide range of options across their equipment range, including the choice of different powerplants for some models. What's the difference between these engines? Here's a rundown of the motors Billy Goat uses, and what you can expect from them.
Briggs & Stratton
These residential engines are built primarily for ease of use, and they're lighter than the commercial engines. This makes them a great choice for specialty equipment that you won't use very often, like overseeders and sod cutters. After all, an engine designed for years of use in a walk-behind lawnmower should have no trouble with seasonal landscaping jobs.
Briggs commercial engines are more prosumer than professional, but they're still backed by a two year warranty for commercial use. If you buy one for home use, the company covers the engine for three years.
Honda
The CR550HC uses a GC Series engine. Like Briggs & Stratton's engines, the GC is aimed at residential users. The overhead cam design keeps the engine cool in extreme temperatures, while a clever timing chain design draws oil from the crankcase to keep the top end lubricated.
If you buy any other Honda-powered Billy Goat, you'll get a GX Series engine. With the first models introduced over a decade ago, the GX has proven to be unfailingly reliable, while offering good overall performance and fuel economy. If you're a professional landscaper, there's a good chance you already own at least one piece of equipment powered by this engine.
Both engines benefit from Honda's focus on quality and usability. With less noise and vibration than other engines, they're easier on operators who use this equipment day after day.
Vanguard V-Twins
Briggs & Stratton's Vanguard division builds engines for commercial use. While their V-Twins don't dominate the market like Honda's GX, they're still a popular choice for large ZTR mowers. Vanguard's advanced debris management makes them perfect for dirty jobs, which is why Billy Goat uses them in their biggest truck loaders and blowers. This debris system includes a multi-stage air cleaner with a centrifugal pre-filter to keep the inside of the engine clean.
E-Start models have an electric starter with a recoil backup. Automatic compression release comes standard on all V-Twins, making them easy to turn over manually if you have a dead battery.
Billy Goat uses the Vanguard EFI to power the DL37 debris loader. Fuel injection reduces emissions, fuel consumption and throttle droop while improving power across the RPM range. It also makes the engine less sensitive to stale fuel. Low operating costs let buyers quickly recoup the increased purchase cost.
Vanguard Single Cylinder
Due to lackluster performance, Vanguard's smaller engines barely made a dent in a market dominated by Honda and Subaru. The company aims to change that with their new line of single-cylinder engines. Designed and built in-house, they share most of the technology that has made their V-Twins best sellers in their market segment.
This isn't simply a beefed-up Briggs & Stratton: it's an all new design targeted specifically at Honda. It's even designed to be a drop in replacement for "other" engines, sharing enough of its dimensions and control placement with the GX Series that it can be used in place of a Honda with no modification. This makes it a great choice for repowering old equipment.
The key advantage of this engine is low maintenance. Major maintenance is recommended every 200 hours instead of the industry standard 100 hours. A cyclonic air box comes standard, removing most dirt before it reaches the filter. As a result, filter changes are only required every 600 hours.
Billy Goat currently offers their 6.5 HP model in the OS552 overseeder, PL1801 PLUGR aerator, and F601V walk-behind blowers.
Subaru
Subaru shut down their Industrial Power Products division at the end of 2017, but it took a while before the stock of new engines was depleted. Billy Goat still lists some Subaru-powered models on their site, although they're out of production. There is still plenty of used equipment on the market powered by these engines.
A new company, Industrial Power Products of America, Inc, now handles warranties and parts distribution for these engines. That means you can still get Subaru's industry-leading 5-year warranty. You can also get parts for these engines from former Subaru dealers, including us.
We Have the Parts for Your Billy Goat Engine
Billy Goat Parts isn't just a Billy Goat dealer: we're also an authorized dealer for Honda, Subaru, Briggs & Stratton and Vanguard. That means you can get everything you need for your equipment by visiting www.billygoatparts.com. Finding parts is easy, thanks to our popular parts sections, and our search engine that can find parts based on your engine's model and serial number. We even have built-in diagrams and factory descriptions, so you know exactly what you're ordering. We can ship your order to any address in the United States or Canada.