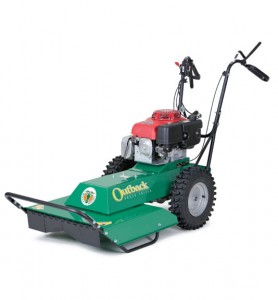 Is it time to clear out the back 40? Do you need to get an unkempt lawn back to a reasonable height? Billy Goat's Outback brushcutters have the power to slice through saplings and brush, making overgrown plots usable again. Like any piece of equipment, a little know-how goes a long way toward using it effectively and safely. These tips will help you get the most from your brushcutter.
What's the Difference Between a Pivoting or Fixed Deck?
A pivoting deck works better on uneven ground. The rails on the side of the machine rub against the soil, pushing the deck left and right to keep the blade parallel with the ground. This delivers a more even cut. Both the BC26 and BC2601HHC have decks that can pivot up to 12 degrees in either direction, and return to neutral automatically.
The BC26 Fixed Deck has a rigid-mounted deck that doesn't swivel. This keeps it from snagging on holes and hill edges when cutting thick vegetation. The finish will be less even than a pivoting deck cutter, but it works better on difficult terrain.
Protecting Yourself and Those Around Yourself
An Outback brushcutter can best be described as a lawn mower on steroids. It has more power and uses a thicker blade to cut through thick growth. That means the dangers you can expect from a standard lawn mower are amplified. Solid objects are thrown further when they strike the blade, and it's easier for these objects to hide in tall grass.
People and pets should be well away from the area you're working.
Billy Goat recommends wearing eye protection, non-slip shoes and thick pants when using an Outback brushcutter. OSHA requires a hard hat for professional brushcutters, and it's not a bad idea for residential users.
Don't cut on muddy ground. Between steep slopes and the high effort required to move your cutter, you're setting yourself up for an accident. Wait until the soil is dry.
Check the area for rocks, toys, bottles and anything else that could be launched by the cutting blade. You should also look out for fence wire and cables that can wrap around the blade spindle. See a hazard that you can't remove? Mark it with a flag or some fluorescent tape.
When you need to cut on a slope, go side to side. Pointing the brushcutter straight up or down makes it more likely that it will roll away or toward you.
Have a clog? Shut off the engine and let the blade come to a complete stop. Before you reach into the deck to remove the clog, disconnect the spark plug. That way, if you push the blade, the engine won't kick over and fire up.
Getting a Good Cut
To get the best finish, overlap your passes by half the deck's width. This limits the amount of growth the blade has to cut, while giving it a second pass to remove any surviving brush. Unlike a mower deck, your Outback's deck doesn't generate vacuum to pull grass and weeds toward the blade. If you seem to be leaving a lot of uncut grass, slow down. You need to give the blade more time to cut. On models with a manual transmission, expect to spend most of your cutting time in first or second gear.
Taking Care of Your Brushcutter's Blade
Taking care of a brushcutter blade is a lot like taking care of a mower blade. This blade needs a flat cutting edge that is as sharp as a butter knife to be effective. While you may not care about getting a good cut finish with your brushcutter, a sharp blade does a better job of cutting vegetation.
Always balance the blade before putting it back on your machine. You can use a regular mower blade balancer, or just hang the blade from a nail. You know the blade is balanced if it sits parallel to the ground. If it doesn't, file a little off of the side pointing to the ground.
Major impacts can crack or dent the blade, making it unusable. If you want to keep working, have a spare blade on hand that you can swap out if this happens.
Get Everything You Need for Your Outback Brushcutter
Billy Goat Parts is an authorized dealer for Billy Goat, as well as Honda, Briggs & Stratton and Tuff-Torq. That means we carry everything you need to keep your Outback working, from replacement blades to major components. Our site lets you browse commonly ordered items, or find specific parts using our advanced search engine. We even have built-in factory parts diagrams, so you can see exactly what you're ordering. Visit us at www.billygoatparts.com. We ship across the United States and Canada.