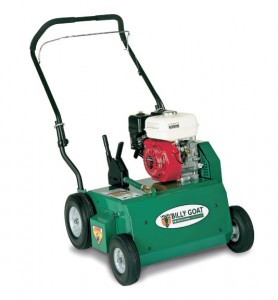 Even if you regularly use a Billy Goat overseeder or power rake, dealing with thatch can be confusing. When do you need to use it? How do you dethatch without damaging your lawn? Why does your lawn have a thatch problem? These tips will help you with every step of thatch management, from prevention to lawn recovery.
Is Thatch Bad?
No, as long as you have the right amount. A thin layer of thatch acts as a cushion and an insulator, reducing ground compaction and the effects of extreme temperatures. However, if it's more than a half inch thick, it can keep water, air and sunlight from reaching the soil. Thick thatch is also a breeding ground for insects and fungi.
Even if you have a normal amount of thatch, it can get in the way when overseeding and aerating. Typically, you will want to dethatch, aerate and seed in that order to get the best seed-to-soil contact when overseeding your lawn.
Why Do I Have Excessive Thatch?
Some varieties are more prone to thatch than others. Bermuda and Kentucky bluegrass are the worst offenders. Excess nitrogen from overfertilizing can boost growth to a point that your lawn can't keep up with the increase in thatch.
Managing microorganisms and worm populations can help them break down thatch. Mulching grass helps keep microorganisms fed, so they can tackle thatch. Pesticides can damage both microorganisms and worm populations, reducing their effectiveness. Excess water can displace oxygen, making it harder to break down thatch.
How Do I Know I Have Too Much Thatch?
Mow your lawn to a normal height. If it looks brown, you're probably seeing thatch, not grass.
If the lawn feels spongy when you walk on it, it's probably because you're walking on a thick thatch layer.
Cut a few plugs out of your soil. Look at the layers: the brown layer between the grass and the soil is thatch. If it's over ½ inch thick, it needs to be removed.
When Should I Dethatch My Lawn?
Dethatching is hard on your grass, so it's best to stick to times when it will be easiest for your lawn to recover. The best time for warm season grasses is late spring or early summer, and the best time for cool season grasses is late summer or early fall. These are also great times for overseeding, so you can tackle both tasks at the same time.
How Do I Prepare My Lawn for Dethatching?
Avoid fertilizing your lawn for at least 6 weeks before dethatching. Apply pre-emergent herbicides after dethatching. Otherwise, you'll end up removing most of the lawn chemicals with the thatch.
Dethatch when the lawn is damp, but not wet. If the soil is muddy, your power rake will pull up grass and roots along with the thatch.
Before dethatching, mow to the shortest height that is healthy for your lawn's grass varieties. Bag the clippings to keep the grass out of the way of the power rake's tines. You should never cut off more than 1/3 of the grass's height at a time, so you may need to mow a few times beforehand. Space these mows out at least a couple days from each other to let the grass recover.
Mark sprinklers, surface wires and other hazards on your lawn, so you won't hit them with your power rake's tines.
How Do I Get the Best Results When I Remove Thatch from My Lawn?
Use the maximum height for your power rake until you're comfortable with how it works. Even with the perfect height, you may need to go over some areas several times to remove all of the thatch. Billy Goat overseeders can dethatch with their blades, but you shouldn't try to seed and thatch at the same time.
Use your mower to cut up the thatch. If you're worried about weeds, bag the clippings to keep the seeds off of your lawn.
Your lawn is going to look terrible afterward. This is normal. Continue with your overseeding plan, or let the grass recover for a few days before you start mowing again.
Water and fertilize your lawn to help it recover. Avoid weed-n-feed fertilizers that can hamper grass growth.
Is Your Power Rake Ready for Fall Lawn Care?
Billy Goat Parts is an authorized dealer for Billy Goat, which means we have the OEM parts and accessories you need for your power rake or overseeder.  We have sections for commonly ordered parts, like engine maintenance items. You can also use our search engine to find replacements for everything on your equipment. It can narrow down search results down to your model and serial number, and show you factory diagrams and descriptions. That way you can be sure you're ordering exactly what you need. Best of all, we can ship your order to any address in the United States or Canada. Visit us at www.billygoatparts.com.