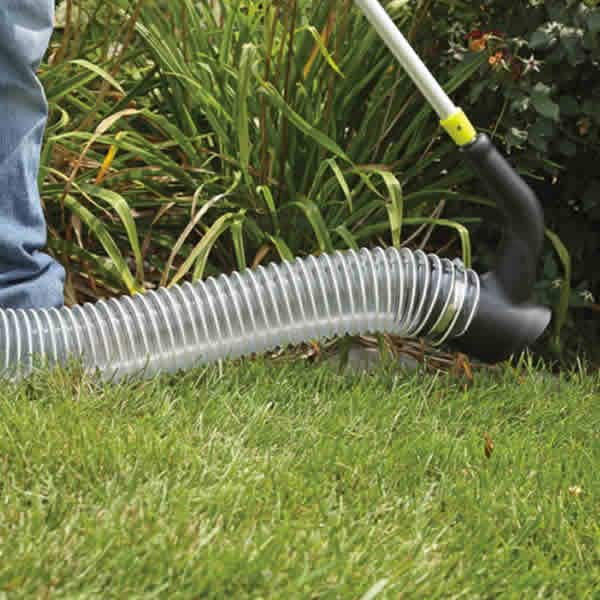 You only need these tools: a 5/16 inch socket with a ratchet or nut driver, and a pair of 7/16 inch wrenches.
Wear Guards and Blocker Plate
Put the nozzle in its highest position. The sides of the nozzle's reinforcement bracket are held on with a set of bolts, washers and nuts. Remove these parts, then push the wear guards into the holes. Install the hardware you just removed. Slide the blocker plate into the slots on the wear guards when you want to use the hose.
Hose Nozzle Bracket
The bracket attaches to a pair of long screws near the muffler. This keeps the hose from making contact with the engine and melting. On TKV vacuums, these screws are next to the left rear side of the engine. The screws on other Honda-powered vacuums are to the left of the engine. On Briggs & Stratton-powered vacuums, the screws are next to the right rear corner of the engine. Remove these screws, then use them to attach the bracket to the vacuum frame.
Hose Holder
This bracket attaches to a set of pre-drilled holes on the side of the vacuum's handle. Position the holder, so that the top edge of the bracket faces away from the handle. Bolt it down using the included hardware.
Hose
Attach the included hose clamps to the end of the hose. Slide the hose over the side of the coupler that doesn't have pins. Tighten the clamps.
Remove the screw on the hose opening plug at the front of the vacuum nozzle. Remove the plug, then slide the coupler into the plug hole at an angle, lining up the outer coupler pin with the slot in the hole. Twist the coupler until you can slide the second pin through the slot. Push the coupler in until it sits flush with the nozzle housing.
Wrap the hose around the intake side of the engine and over the hose holder, then push the nozzle into the nozzle bracket. The hose should be held away from the exhaust.
Need to Buy a Hose Kit for Your Vacuum?
Looking to buy a hose kit for your Billy Goat vacuum? Need to get a replacement hose, or some new wear guards? Billy Goat Parts has everything you need. Our search engine can find parts specific to your model and serial number, and we have factory diagrams on our site, so you can see exactly what you're ordering. If you need something for your equipment, visit www.billygoatparts.com. We ship across the United States and Canada.