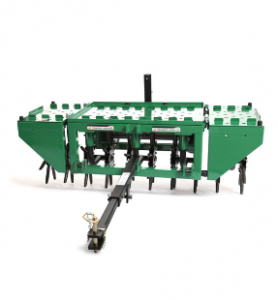 Most Billy Goat owners are commercial users, but even if you have a light duty model, you'll need to move it from time to time. These tips will help you move your equipment safely and legally whether you're carrying it in a trailer or it's mounted to the trailer itself.
Trailer Safety and Legal Requirements
Billy Goat utility trailers and CustomFit trailers are both designed to be towed at speeds up to 55 mph. The visibility requirements for your trailer will depend on what state you live in and where you drive.
If you ever take the trailer onto a highway, it has to meet Department of Transportation requirements. Trailers less than 80 inches wide and 30 feet long must have stop lights, tail lights, front marker lights, turn signals, reflectors and a license plate light. Most trailer brake lights and side marker lights have built-in reflectors, including the ones offered on Billy Goat's skid mount trailers.
On other roads, you're legally required to meet state regulations, which can vary widely. In some states, you may need all the DOT-required equipment, others may only require a rear reflector, and many states fall somewhere in between. As a general rule, if there's any chance that your trailer can obscure your vehicle's brake lights, you should have trailer lights installed, even if they aren't legally required.
Towable aerators are categorized as "instrument of husbandry." These tractor-towed farming devices are exempt from trailer lighting and reflector requirements, but they will usually need to have a triangular slow-moving vehicle (SMV) reflector mounted on the back to meet local legal requirements.
Tying Down Equipment
Most Billy Goat equipment is designed with tie-down points. These will either be teardrop-shaped loops or exposed frame areas. Tying down on these points will be more secure than running straps over the wheels.
Heavier equipment should be placed toward the front of the trailer. If you're doing general landscaping work, the heaviest piece of equipment you'll have will usually be your mower. When it comes to walk-behind equipment, aerators and brushcutters are the heaviest. When in doubt, check the specifications located at the front of your owner's manual.
If your equipment has a folding handle, lowering it will lower the center of gravity, making it more stable.
Loading Wheeled Blowers
If your blower has a front caster wheel, it needs to be locked into place when transporting. To do this, pull on the ring on the side of the wheel mount and rotate it until it's vertical. Swivel the wheel until the ring moves back into the mount, locking the wheel into place. This mechanism lets the wheel lock into four positions: front, rear, left or right.
Billy Goat offers a quick hold down kit that can keep the blower secured on the trailer by itself. This kit uses a foot-operated latch that grips a bolt that is installed on the blower. To secure your blower, roll it over the hold down and tilt it back. Push the hold down lever, then lower the blower. The bolt should line up with the slot in the hold down. Release the lever, and the latch will close the top of the slot.
Loading Pressure Washers
Storing the high-pressure hose and wand separately will make the pressure washer easier to transport and prevent accidents involving a tangled or pinched hose.
Transporting Debris Loaders
The skid mount is designed to be permanently bolted down whether you're adding it to a trailer or attaching it to a CustomFit trailer kit. Always secure the nozzle to the loader and lock the support boom before transit. If there's any possibility the nozzle hose will come in contact with the ground, remove it from the loader and store it separately.
Getting Parts and Accessories for Your Billy Goat Equipment
Looking for trailer parts or want to add a hold down for your blower? Billygoatparts.com can ship what you need to your door. Our search engine lets you find parts based on your model, showing you factory parts descriptions and diagrams so you can be sure what you order will be compatible. We ship across the U.S. and Canada.