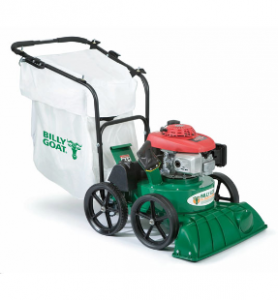 Do you need a combination lawn vacuum and chipper, but find residential offerings a little lacking? Billy Goat's TKV self-propelled vacuum has the performance you expect from one of the leaders in lawn cleanup equipment while still being simple enough for home use.
Power
The TKV vacuum is powered by a Honda GSV190. This engine combines features from their residential GC and commercial GX engines. A cast iron cylinder liner and two-stage air filtration system ensure a long engine life, while an overhead camshaft and internal timing belt make this engine quiet and efficient. It's both EPA and CARB certified, so it's legal to use anywhere in the U.S. or Canada. A self-propulsion system is built into the vacuum, so it's easy to move, even when it has a fully loaded bag.
Vacuuming
Debris is drawn in through a 27-inch wide nozzle. The height can be adjusted by turning a knob on the base, letting the TKV be used to clean up lawns or paved areas including driveways and parking lots.
Inside, a 5 blade impeller with serrated edges chops up debris, reducing them up to 12:1. This compaction reduces the amount of waste generated, saving money on disposal costs. Together, the engine and impeller are able to pull in air at a rate of 1,700 cubic feet per minute.
Bagging
After passing through the impeller chamber, debris drops into a 40-gallon bag. The top of this bag is surrounded by a dust skirt to capture fine particles, keeping both the surrounding area and the operator clean. A flap is built into the rear of the bag for quick emptying. The bag still uses the same simple retention system of other Billy Goat vacuums, making it easy to remove and install when it needs to be cleaned.
Chipping
The chipper shoot handles branches up to two inches thick, cutting the wood with a set of blades before sending them through the main housing where leaves are broken up by the impeller and pushed into the bag. A storage bracket is built into the handle to carry a lopper so you can trim branches to fit the machine.
Accessories
The hose kit uses a clear hose and metal nozzle to get into areas the vacuum can't reach. This is perfect for cleaning up areas around garden beds and bushes. The caster kit makes the vacuum easy to maneuver in more open spaces, and it reduces tire wear on hard surfaces. If you regularly use your TKV for cleaning pavement, adding the nozzle wear kit will keep you from scraping up your vacuum.
For operation in sandy areas, Billy Goat offers a liner sleeve that protects the impeller chamber from abrasion. Need to pick up fine dust? The felt bag traps small particles to get a clean finish.
Get the Parts and Accessories You Need for Your Billy Goat
From the flexible TKV to the hard surface QV, if it's made by Billy Goat, you can get everything you need for it from www.billygoatparts.com. We're not just a parts warehouse: we're a certified dealer for Billy Goat and their manufacturing partners including Honda Engines. Our site has built-in factory information including parts diagrams and descriptions so you can be sure your order will be compatible with your equipment. We can ship parts and accessories across the U.S. and Canada.