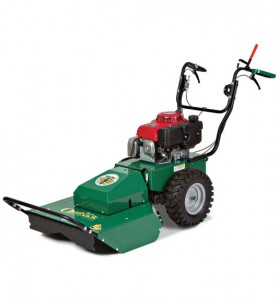 The Billy Goat BC26 series Brushcutter gives you the ability to quickly clear out an area of undeveloped land with ease. Weeds, shrubs, undergrowth, and even small trees don't stand a chance against the blades and high torque of the Billy Goat mower. If taken care of properly, the Billy Goat mower can offer you optimum performance for many years to come. Below are some tips for maintaining your Billy Goat BC226001CH Mower.
Safety Disclaimer
Before working on your mower, it is important to heed the following safety precautions:
Never run the engine in a closed area.
Never run the engine when performing any kind of maintenance, no matter how small it may be.
Always disconnect the spark plug before working on the engine.
Use extreme caution when servicing mower blades as they are sharp and can easily cut you.
This is not an all-inclusive list of safety precautions. Be sure to read all safety instructions, which can be found directly in your owner's manual.
Maintenance Overview
There are two types of maintenance that you should be aware of: routine and periodic maintenance. Routine maintenance is work that should be performed on a regular basis, such as refueling, checking the oil, cleaning the machine, etc. Periodic maintenance is the kind of maintenance that needs to be performed at certain time intervals, such as hours of use. Repairs and replacements may also need to be addressed throughout the lifetime of the machine.
Blade Drive Belt
The blade drive belt is what connects the engine pulley to the deck, allowing the blades to spin. Over time, it can get worn out and can become stretched, causing the blades to stop rotating. Sometimes, this just calls for a tightening of the belt. To do this, you need to check the belt tension. The spring itself is what provides the tension, and may need replacement. If the belt is excessively worn or stretched, you may need to replace your belt completely.
Mower Blades
After using your Billy Goat mower over a period of time, you may notice that it doesn't provide as clean of a cut as it used to. This does not mean that your mower is wearing down. In fact, it is most commonly the cause of a dull or loose blade. Keeping a sharp mower blade is as simple as giving it a good sharpening every so often to maintain its effectiveness. In some cases, the blade will need to be replaced if it shows signs of excessive wear. It is important to note that whenever you remove the blade, the nut will then need to be replaced.
Spark Plug Gap
A spark plug is essential to firing up your machine. In essence, the spark plug is connected to the ignition coil that gives off the high voltage needed in order to spark the fuel and start your engine. An incorrectly gapped spark plug can often contribute to loss of power, poor fuel economy, and accelerated wear. Gapping a spark plug is easy with the help of a spark plug gauge. Even though new spark plugs often come pre-gapped, it is important to check with the spark plug gauge to see if it meets the recommended manufacturing measurement specifications.
New Oil
If you know anything about mowers, you probably know that frequent oil changes are key to keeping your engine running smoothly. Letting old oil set in your mower can cause damage to your engine. Always check your oil before starting your engine to make sure it's full and ready to go. There's nothing more frustrating than running out of oil during a mow job.
Aside from getting an oil change every so often, there are other related parts that need to be replaced as well, such as the oil drain valve and oil filters. Keep your mower in tip-top shape with fresh oil and accessories.
New Battery
A good battery is important to your Billy Goat mower. You need a battery that is suitable in all weather conditions and that is durable against spills, corrosion, and seepage. Billy Goat recommends that you use one of the CB18, C50, SC50, MCB50 series dry or wet battery with a 17.2 AH rating.
Where to Buy Billy Goat Parts
If you are looking for genuine OEM parts to service your Billy Goat mower, look no further than BillyGoatParts.com. Search from thousands of parts with just the click of a button. You can purchase quality OEM parts at any time of day or night, with 24/7 online access. Our representatives are also available to help you answer any questions you might have. BillyGoatParts.com is your one-stop-shop to maintaining your Billy Goat BC226001CH Mower!