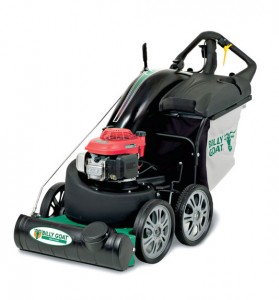 Clearing away organic debris and litter can be a challenge for commercial landscapers and business owners, but Billy Goat's MV6 series of vacuums makes it quite a bit easier. Designed specifically for the most challenging commercial applications, the MV6 series has four large wheels, a heavy overall weight, and a wide clearing path, which makes it easy to pick up and process items from leaves and twigs to all types of smaller litter items. The design of key parts, like the included debris bag and optional hose kit, further enhances the MV6's prowess in commercial cleanup.
Uses and Applications for the Billy Goat MV600 Series
The Billy Goat MV600 series is similar to the company's other vacuums in quite a few ways. The equipment can be used inside or outdoors; it features an impeller that can process both organic and manmade debris, and the machine features easy maintenance routines that aid in its longevity.

Other key features of the MV600 series:
Highly durable housing and hood that are manufactured with a composite material resistant to dents, dings, and corrosion.
A large, 29-inch gobbler door for effective processing of larger debris items and wider areas.
A top-loading debris bag, unique among vacuums, designed to reduce maintenance, dust, and unloading.
A 40-gallon debris bag capacity with the ability to support up to 50 pounds of processed debris.
MV600 Vacuums: Comparison of Available Models
Like most Billy Goat equipment, the MV600 vacuum series is available in several models that can meet the needs of each type of commercial landscaper. Despite offering three models, however, Billy Goat has equipped all three with a standard set of features and are impressive all on their own.
Each model comes with the following features and specifications:
40-gallon dust bag capacity
Mesh turf bag for reduced dust emissions during active use
29-inch total width, with a 29-inch gobbler door that can be used on hard or natural surfaces.
An accessory-compatible gobbler door that works with add-ons like hoses.
65.5-inch length
47.5-inch height
The standard model sold to most buyers is the MV650H. This model features a 187cc Honda engine and is a conventional "push" model. Buyers looking for an upgrade might want to consider the MV650SPH, which features the same engine but adds self-propulsion for easier work on steep grades and larger outdoor areas. At the high end, Billy Goat's MV600SPE adds an optional electric starter and a 190cc Briggs and Stratton engine.
In addition to the standard and optional features sported by each of these three models, Billy Goat has made a number of accessories available. Perhaps the most popular accessory is the company's hose kit for the MV vacuums. When connected to the gobbler door, the hose kit allows for up-close cleaning of fence lines, tree lines, shrubbery, and any other areas where debris needs to be collected, processed, and efficiently removed from indoor or outdoor settings.
A Look at Regular Vacuum Maintenance
Like all commercial and industrial equipment, Billy Goat's MV600 vacuums do require regular maintenance in order to keep operating at peak efficiency. Billy Goat's instruction manual breaks down this regular maintenance by the number of hours the vacuum has been used. To that end, maintenance is recommended either before every use, after five hours of use, or after 25 hours of use.
Every Use: Inspect the equipment for any worn or broken parts that need to be replaced. Also, make sure to clean the debris bag.
Every 5 Hours: Check for any loose parts and excessive vibration that might merit adjustment.
Every 25 Hours: Lubricate the throttle control cable.
In addition to routine maintenance, it might occasionally be necessary to remove the impeller for sharpening or replacement. In this case, start with a cool engine and drain all fuel and oil. Disconnect the spark plug wire to ensure safety. Then, remove the engine, impeller, and mounting plate by removing the bolts on the housing that secure these pieces in place. With the engine still connected to the plate, remove the impeller bolt and lock washer. Slide the impeller out and perform the required maintenance.
Use Only OEM Parts for Regular Maintenance Work
Billy Goat doesn't just produce the vacuums that make debris cleanup easier. In fact, the company also produces a wide array of original replacement parts that stand up to its own high standards for equipment quality and durability. BillyGoatParts.com can help Billy Goat vacuum owners find the OEM replacement parts they need, including impeller blades, bolts, and much more. With the ability to sort by part number and engine manufacturer, it's also easy to find a replacement that is fully compatible with any model. Get started at BillyGoatParts.com today for an easier maintenance routine throughout the year.