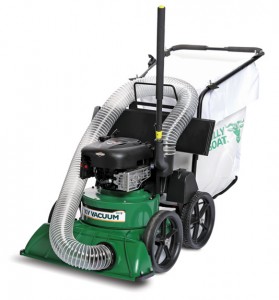 For more than four decades, Billy Goat has been a leader in commercial and residential property maintenance. The company's vacuums, which come in several models to appeal to both commercial and residential buyers, are ideal for cleaning up litter and seasonal debris that might otherwise lead to brown patches and dead grass throughout the year. The KV series of Billy Goat vacuums features a lighter overall weight, a more compact design, and a narrower vacuuming width, making it ideal for cleanup around homes and smaller commercial properties than the larger MV series.
Where and Why to Use the KV600 Vacuums
Outdoor vacuums are an ideal way to keep up with the debris produced by mother nature, through both seasonal change and the occasional severe storm. There are many other potential applications for the KV600 series from Billy Goat, however, and these uses are worth discussing.
Broad organic debris cleanup: The nearly 27-inch width of the KV600 vacuum series makes it ideal for cleaning up wide swaths of organic debris, like twigs and sticks, fall foliage, and other small items. Most people find that the KV600 vacuum is a perfect piece of equipment throughout the autumn months, where it can clean up twigs and foliage with ease. The equipment uses its impeller to turn smaller debris into dust, while larger or wet items are reduced on a 2:1 or 3:1 ratio depending on their size.
Litter cleanup: While most people use the KV600 series to clean up natural debris, the vacuum is also adept at handling manmade debris in smaller residential areas. Litter can be processed by the vacuum just as easily as organic items, and is reduced by a 3:1 ratio for effective disposal.
Targeted organic debris cleanup: While the 27-inch clearing width of this vacuum is great for cleaning up larger areas quickly, an optional hose attachment makes targeted cleaning just as easy. Billy Goat designed the hose attachment for hard-to-reach corners, fence lines, and shrubbery, which should help operators create a clean, uniform appearance in any outdoor space.
A Look at Available KV600 Vacuum Models
To better meet the unique needs and preferences of its customers, Billy Goat has designed several KV600 vacuum models that work well in a variety of applications. Before looking at the slight differences between each available model, it's important to understand what they all have in common with each other. The standard feature set for all KV600 vacuums includes the following:
62-inch length
26.75-inch clearing width
40-gallon bag capacity for debris collection
Mesh debris bag with included dust skirt
Zipperless bag design for easy disposal of collected debris
1700 CFM
Both the Billy Goat KV600 and KV600SP feature a 190cc Briggs and Stratton engine. The KV600 weighs 112 pounds, while the larger KV600SP weighs in at 129 pounds. For those who prefer Honda engines, both the KV650H and KV650SPH feature a 187cc Honda engine. While these differences are minor, one big difference characterizes the high-end TKV650SPH vacuum: self-propelled operation. This model is ideal for working on steep grades or in larger areas where a self-propelled model can reduce both the effort and time needed to get the job done.
Easy Maintenance is Part of the Billy Goat Experience
In addition to a large number of applications and several models to meet each customer's unique needs, Billy Goat has made sure that KV600 maintenance is as easy as possible. That commitment starts with the company's periodic maintenance guidelines, including the following routine checks and changes:
Every use: Clean the debris bag and check the bag strap tightness.
Every 5 hours: Check for excessive vibration and inspect the vacuum for worn, damaged, or loose parts that may need tightening or replacement.
Billy Goat has also made it rather easy to remove the impeller blade for sharpening, replacement or another maintenance requirement. As with all maintenance tasks, impeller removal should only take place when the engine is cool, fuel and oil have been drained from the vacuum, and the spark plug has been disconnected. Then, the following steps can be followed:
Remove the debris bag, upper handle, and quick release, while making sure not to damage or kink any cables.
Remove the top plate, leave the engine secured, and turn the top plate upside down.
Lift the impeller upward to slide it out and remove it from the top plate. Perform maintenance as needed, then replace the impeller and reassemble the vacuum for use.
Find OEM Parts for the KV600 Vacuum Series at BillyGoatParts.com
When it comes to replacing the impeller or any other vacuum part, OEM replacement parts are the best option. These parts meet the highest standard of quality and compatibility as judged by Billy Goat itself. At BillyGoatParts.com, vacuum owners can find the OEM replacements they need and sort them according to their model number or their vacuum's engine manufacturer. Get started today and keep the KV600 vacuum in great shape for the long haul.