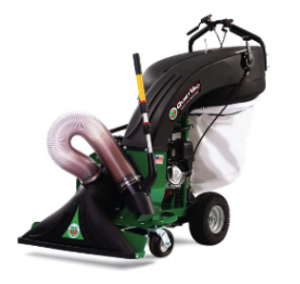 The QV Quietvac was introduced 6 years ago, but this contractor vacuum isn't the same one that debuted in 2012. Updates have improved overall performance to maintain its place as the quietest vacuum of its kind on the market while helping it remove even more dust for better results. Not only is it great for paved areas including parking lots, driveways, sidewalks and streets, its filtration system can safely remove harmful silica dust.
How Quiet is the Quietest Vacuum?
No matter the engine, the noise from this machine is just 77 dB at full RPM and 76 dB at 2,800 RPM. That's as loud as a car passing by at highway speeds. This doesn't just make operation more pleasant: in many cases, the QV can be used at full power without violating noise ordinances. This lets operators work faster when working in residential and business districts.
Performance
Debris is drawn in through a 33-inch nozzle. A crank adjusts the height from ½ inch to three inches, letting this vacuum clean fresh cement pads, remove thin layers of leaves and cut grass from parking lots and everything in between.
Negative air pressure is generated by an impeller with 6 armor plate blades. As debris passes through the volute chamber, they can be reduced up to 12:1 in dry conditions. The impeller chamber uses a replaceable steel liner to withstand impacts from large debris. At maximum power, this vacuum can draw in up to 1.775 cubic feet of air per minute.
Superior Filtration
As debris and air leave the impeller chamber, they pass through a cyclonic chamber that slows down the flow rate. By reducing air velocity, more dust falls out of suspension, reducing the amount of material that has to be trapped by the bag. After passing through the bag's pores, any remaining dust is trapped by a fine dust sock. Used together in dry conditions, the vacuum can trap dust particles as small as 0.1 micron, making it safe for removing silica dust left over from construction involving cement and masonry. The vacuum can also be used in moist, low dust applications by removing the dust sock. Once the 36-gallon collection bag is full, it's easy to unload and reattach thanks to a four latch system mounted around the cyclonic chamber.
Maneuverability
The front of the QV rides on 6-inch caster wheels. Billy Goat offers a hydrostatic drive option that can propel the vacuum to a maximum of 3 mph going forward and 1.5 mph in reverse. The shift-on-the-fly control uses a pair of handles to engage forward and reverse, eliminating the need for a gear shift. This makes it easy to maneuver the vacuum in tight quarters. An optional hose kit attaches to the front of the nozzle, redirection air flow through a 5-inch by 10-foot hose with a metal nozzle. Using the nozzle's long handle, the operator can reach over obstacles and into corners with minimal stooping.
Models
Billy Goat makes four versions of the QV Quietvac, giving buyers a choice of engines and drive systems:
QV550: 205 cc Briggs & Stratton Professional
QV550H: 160 cc Honda GX
QV550HSP: 160 cc Honda GX and hydrostatic drive
QV900HSP: 270 cc Honda GX and hydrostatic drive
Warranty
Honda and Briggs & Stratton guarantees their engines for three years, while Billy Goat guarantees the rest of the vacuum for one year.
Getting Parts and Accessories for Billy Goat Vacuums
Billygoatparts.com is a certified dealer for Billy Goat, Honda Engines, and Briggs & Stratton, making us your one-stop shop for everything on your vacuum. Finding the right part is easy: our site lets you search for parts based on your model and serial number, and you can see exploded diagrams and descriptions direct from the factory. From small parts to impellers, we can ship the parts and accessories you need to any address in the U.S. or Canada.