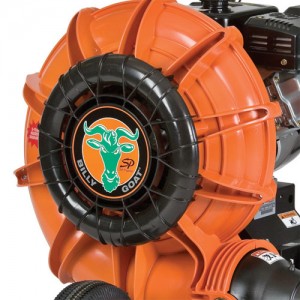 Billy Goat's Force leaf blowers take the effort out of clearing debris by putting commercial engine and large composite fans together into an easy-to-use package. The F13 blower, aimed at contractor and light municipal use, recently received a few changes, simplifying the model lineup while still delivering enough power to replace several backpack blowers.
Delivering More Power and Less Noise
When it comes to blowers, the design of the fan can be more important than the engine for getting performance. Billy Goat has used composite fans and housings for years now, and thanks to refinements to the design, the F13 has over 6 times the clearing power of the best backpack blower.
The engine spins a 16 blade closed face fan. That's twice as many blades as competing blowers, and since it's cast in a single shot, there's nothing that can loosen under use. This fan is housed in a composite shell that forms a close fit, eliminating turbulent and stagnant areas found in metal designs. That means more power, less engine wear, less vibration and less noise, all while moving air at speeds nearing 200 mph.
The efficient fan design coupled with a four-stroke engine results in 90 dB of noise at operator's position, less than many backpack blowers. This level of sound still requires hearing protection, but since this noise drops off significantly with distance, sound levels drop below 65 dB at a distance of around 20 feet. That's low enough to meet most municipal ordinances.
Air exits the fan chamber via a 5-inch Aim-N-Shoot nozzle. The angle of the nozzle can be adjusted using a lever on the handle or it can be locked into place. That handle is offset, giving the operator a clear view of the air path. A rubber forward discharge elbow is also included that snaps over the nozzle for cleanup next to buildings and fences.
Models
Billy Goat has phased out the Vanguard and Subaru engines on the F13, leaving the 393cc Honda GX400 as the sole engine option. Despite this, improvements to the fan design let this motor match the output of the larger Vanguard.
The walk-behind F1002H weighs 160 lbs, up slightly from its predecessor but still well below that of similar metal case blowers. The F1002SPH adds a self-propulsion system, taking some of the strain off the operator while increasing overall speed by 30%. It weighs just 5 lbs. more than the standard model.
Accessories
The front wheel can be replaced with a caster to make it easier to steer the blower around obstacles. If you'll be using the blower in areas likely to contain nails and other sharp objects, the standard pneumatic tire can be replaced with a flat-free foam-filled tire.
Need to step away from your blower when working on slopes? The parking brake has metal tines that clamp down on the rear tires to keep this machine from rolling. This also makes the blower easier to secure during transport, as does the quick hold down kit that provides a fixed mount that attaches to your trailer.
Warranty
Billy Goat guarantees the housing for 5 years of use and the rest of the F13 for two years of use. Honda guarantees the engine for three years.
Getting Parts and Accessories for Your Billy Goat Blower
You can get everything you need for your Billy Goat equipment at www.billygoatparts.com. We're a certified Billy Goat and Honda Engines dealer, which means we carry replacements for everything on the company's Force wheeled blowers. Our site has factory diagrams and descriptions built into the search engine, making it easy to find what you need to get the most from your equipment. We ship across the U.S. and Canada.