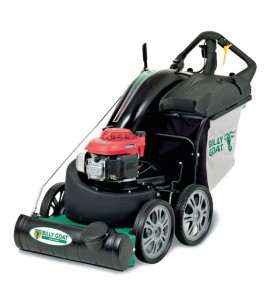 Just because you need to clean up both turf and paved surfaces doesn't mean you need to have two separate machines. Billy Goat's MV Multi-Surface Vacuum uses an adjustable nozzle that works great on both surfaces, making it a great choice for homeowners and commercial operators that want an all-in-one vacuum.
Flexibility by Design
Debris is drawn in through a 29-inch nozzle that adjusts for concrete and turf use. A large crank at the rear of the base adjusts the nozzle height, while a separate lever moves the gobbler door, adjusting the nozzle opening to pick up anything from pine needles to leaf piles up to 5 inches high
Debris is sent to a 40-gallon bag that holds up to 50 lbs. This bag is top loading, sliding in and out of rails molded into the exhaust hood. There are no zippers to mess with: just release the two latches on the back and slide out the bag to empty it. The bag design also reduces backpressure for better overall performance, and it can be filled to the top before having to be emptied. Air is pushed downward as it exits the bag, keeping dust away from the operator's face.
Perfect for Flat Surfaces and Hills
With large wheels and a weight just a little over 200 lbs, this vacuum is surprisingly easy to move over flat surfaces. If you need to tackle hills, Billy Goat offers the MV with a three-speed drive system, letting you pick up debris at your own pace.
Models
Billy Goat makes the MV vacuum in three versions:
The MV601SPE is powered by a 190cc Briggs & Stratton Professional engine and is self-propelled. This engine is intended for residential use, but it borrows some design features from commercial engines including a dual sealed air filter. By the company's own estimates, this engine should last 60% longer than their standard E-Series powerplants. With no choke or priming bulb to worry about, this engine can be started with one or two pulls.
The MV650H is a push vacuum powered by a Honda GX190. This commercial engine has a reputation for unfailing reliability, and its design reduces vibration and noise, making it comfortable for all day use. Starting is easy thanks to an automatic decompression system.
The MV650SPH pairs the Honda GX190 with an electric starter and a self-propulsion system.
Accessories
Need to bag debris? Billy Goat offers disposable liners that fit inside the debris bag, letting you load debris directly, then tie the top of the liner and lift it out of the bag for disposal.
The optional hose kit makes it easy to get leaves and debris out of hard-to-reach places. The hose attached to a port on the gobbler door and mounts over the top of the machine, so the vacuum can be used normally. When it's time to use the hose, the airflow can be redirected from the nozzle by moving a lever. A long metal tube and handle lets the operator reach into corners with minimal stooping, and the clear hose makes it easy to find blockages.
Warranty
The GX190 is guaranteed by Honda for three years of residential or commercial use, while the Professional is guaranteed by Briggs & Stratton for two years of residential use or 90 days of commercial use. Billy Goat covers the rest of the MV vacuum for two years of residential use or one year of commercial use.
Get the Parts and Accessories You Need for Your Billy Goat Equipment
Billygoatparts.com is a certified dealer for Billy Goat and their manufacturing partners including Honda Engines and Briggs & Stratton so you can get everything you need for your vacuum from one source. We have sections for vacuum bags, accessories and common parts on our front page, or you can search by your model and serial number. We have factory exploded diagrams built into our site, making it easy to find exactly what you're looking for, and we can ship your order to any location in the United States or Canada.