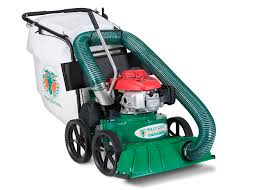 Tired of raking leaves? Wish there was an easier way to clean up after aerating or dethatching your lawn? The KV is the smallest model in Billy Goat's vacuum lineup, but it still has the features and power that makes their other models a favorite of professional landscapers, groundskeepers and construction crews. It even adjusts for different debris heights so you can use it on both turf and paved surfaces.
Vacuum
Most residential vacuums have problems with clogging, but the KV avoids this by using a wide 27-inch nozzle. Debris is sucked in by a 5-blade impeller with serrated edges chops up and compacts leaves and grass. Each blade is armor-plated, smashing and tearing aluminum cans and glass bottles that would stall or damage lesser vacuums. At full throttle, this machine draws in up to 1,700 cubic feet of air per minute. The KV is also the only vacuum Billy Goat makes with the option of a two-inch chipper, letting the vacuum mulch small branches for complete lawn cleanup.
With four height positions, the nozzle can be moved up and down to vacuum debris off of turf and paved surfaces. Changing the height is easy: just pull the adjuster cable and lift or lower the handle to change the nozzle position.
Bagging
Debris passes by an integrated skirt that captures dust then drops into a 40-gallon bag. This bag uses a zipperless design that's easy to remove for unloading: unlatch the two hooks on the operator handle, then pull up on the handle over bag opening. A spring-loaded door automatically covers the impeller outlet.
Models
The KV Vacuum is available with or without a drive system. Self-propelled models aren't just easier to operate, they move faster, letting these machines cover a little under a half acre per hour.
Buyers also have a choice of two engines. The 190cc Briggs & Stratton Professional straddles the consumer and professional small engine segments. It's designed to last 60% longer than the company's E-Series engines, but it still has an automatic choke for easy starting. The Honda GSV 190 is also a prosumer engine, combining high-quality components with a design that targets low noise and reduced vibration. The two-inch chipper is only available with this engine.
Briggs & Stratton Professional
KV601 – 116 lbs.
KV600SP – Self-propelled, 129 lbs.
Honda GSV 190
KV650H – 98 lbs.
KV650SPH – Self-propelled, 98 lbs.
TKV650SPH – Self-propelled with a two-inch chipper, 141 lbs.
Accessories
The hose kit makes it easy to vacuum debris around bushes, flowerbeds, and other obstacles. When the blanking plate is attached to the vacuum nozzle, airflow is redirected to the port on the front of the machine. A metal nozzle on the hose resists scraped and impacts, while a long handle gives the operator plenty of reach.
Other accessories are designed to tailor the KV's performance to fit your needs:
Need to pick up fine dust and dirt? The felt bag has fine pores for better dust control.
Do you live in a place with sandy soil? Adding a liner sleeve will protect the impeller housing from abrasion.
Mostly work on paved areas? The nozzle wear kit adds metal plates to protect the nozzle while adding a caster kit makes the vacuum easier maneuver and reduces wear on the wheels when turning.
Do you mostly use your vacuum to pick up leaves? The shredder screen traps leaves in the housing to give the impeller more time to chop them up, resulting in a 12 to 1 reduction. This leaves you with fewer bags of yard waste to dispose of.
Warranty
Billy Goat guarantees the vacuum for one year of residential or commercial use. Briggs & Stratton guarantees the Professional engine for one year of residential or 90 days of commercial use, while Honda guarantees the GCV190 for two years of residential use or one year of commercial use.
Everything You Need for Your Billy Goat is Just a Few Clicks Away
Need parts or accessories for your vacuum? Billygoatparts.com is a certified dealer for Billy Goat, Briggs & Stratton and Honda engines. That means you can get everything you need from one source. Our site has built-in diagrams and descriptions straight from the manufacturers so you can be sure you're ordering exactly what you need. We ship across the U.S. and Canada.