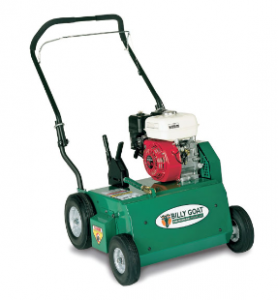 A power rake takes the work out of dethatching a lawn, and with Billy Goat's PR 550, making the switch from manual to motorized lawn care doesn't mean adding a lot of hassle. By using some clever design features, they've created a rake that can be set up in a variety of configurations to do everything from overseed to improve drainage while remaining mechanically simple and easy to maintain.
Commercial Quality in a Compact Package
The PR 550 uses a 20-inch wide reel to lift and pull thatch off of soil, exposing the soil and root system to air and water for increased growth while preventing issues with shallow roots. Weighing 160 lbs. and measuring 26.5 x 45.5 inches, this compact rake is ideal for use on residential lawns where the dethatcher needs to work around trees, sidewalks, and other landscaping features.
The flails on this reel rotate in a downward sweeping motion, pushing the rake along the ground as it cuts without needing a separate self-propulsion drive. Power to the flail is engaged by closing a bale form-fitted to the curved handle for operator comfort. Let go, and the machine can be easily repositioned for the next pass.
When the work is done, the handles can be folded down by moving a couple clips: there are no bolts to mess with, so the handle is always tightened correctly when it's tilted back into its operating position.
The reel uses heat treated and tempered blades, and the shaft rides on cast iron pillow block bearings with grease zerks for maximum durability. Height is infinitely adjustable to spread wear over the entire length of the reel blades, further increasing its usable life.
This attention to reliability extends to the rest of the unit with all steel pulleys and steel wheels that ride on roller bearings. Idler pulley adjustment and belt changes are easy: the drive system is mounted on the side of the unit, covered by a plate held on by a couple of bolts for quick access.
Engines
Billy Goat offers the PR 550 with a choice of two engines: a Briggs & Stratton Vanguard displacing 205 cc and a Honda GX displacing 162 cc. Brand preferences aside, the Vanguard has the most power, while the GX uses a little less fuel and is easier to turn over when starting. Both motors have a three-year commercial warranty from their manufacturers.
Doing Multiple Jobs with One Machine
Along with the flail reel that comes with this power rake, Billy Goat also offers a vertislicing reel and a spring tine reel. The vertislicing reel cuts straight down, making it a great choice for thinning running grasses, improving drainage and working seeds into the soil. The spring tine reel uses a gentler lifting action than the flail reel, allowing it to pass over sprinklers and other objects without damaging them.
The PR 550 can also be used to lay down grass seed with the overseeder kit. This kit includes a seed box and a vertislicing reel, dropping and working the seeds into the turf with one pass.
No matter how it's configured, the PR 550 can cover around 13,000 square feet per hour.
Getting Parts and Accessories for the PR550 Power Rake
Whether you want to turn your power rake into an overseeder or just need to do some maintenance, www.billygoatparts.com has everything you need. We're a certified dealer for Billy Goat as well as their manufacturing partners, which lets us offer factory parts for your Billy Goat equipment and its engine. We ship across the U.S. and Canada.