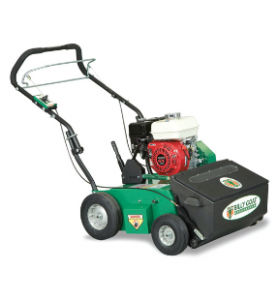 Overseeding keeps turf full of young grass, providing better coverage for a thicker looking lawn. However, most models are designed for maximum speed, making them hard to get into tight spaces. This leaves areas around landscape features and fences covered in thin, mature grass. The OS 500 is designed to cover these areas by putting seed dropping, turf cutting, and dethatching tools on a platform the size of a push mower.
Cutting, Seeding and Dethatching
Seeds are held in front-mounted polycarbonate box that won't rust and won't dent up if you get a little too close to trees and buildings. With a 25 lb. Capacity, it can hold enough grass seed to cover between 1/8 and ¼ of an acre before reloading. There are even instructions on the inside of the lid to help you set the correct drop rate. To get the most out of your seeds, the OS 500 comes with Billy Goat's Auto Drop system, letting you turn on seed release and blade engagement by moving a bale so you only put down seed where you need it.
The OS 500 uses a 20-inch slicing reel to ensuring contact between the seeds and soil. Depth adjustment is infinite, letting you get the just the right height while spreading wear over the entire length of the tines to increase the time between replacements.
This overseeder can also be used as a power rake by swapping in a set of flail or spring tines, letting you dethatch and seed with one piece of equipment. Flail blades offer the best performance and can be flipped, giving them two cutting surfaces for increased wear. Spring tines can't match the pulling power of flails, but they also won't damage sprinkler heads and other objects on the surface of the turf.
Power
Despite its compact footprint, the OS500 overseeder is available with a choice of two commercial grade engines: a 205 cc Briggs & Stratton Vanguard or a 162 cc Honda GX. The Vanguard has a slight edge in power, while the Honda has automatic decompression, making it easier to start. Both engines are guaranteed by their manufacturers for three years of commercial use.
Performance
This power rake is surprisingly light at around 178 lbs. with either engine and at 26.5 inches wide and 54 inches long, it's not much bigger than a push mower. Riding on steel wheels mounted on roller bearings, this seeder is easy to maneuver around landscape features to get complete coverage. Operated at walking speed, the OS 500 can cover up to 13,200 square feet per hour.
Maintenance and Storage
It takes a few common hand tools to work on this machine, and most maintenance tasks can be done in under 20 minutes. Outside of the motor, this model only requires occasional adjustment of the idler pulley and replacement of the drive belt and cutting blades.
When it's time to store the OS 500, the handle can be folded down, taking up less space in sheds and on trailers.
Parts
www.billygoatparts.com is a certified dealer for Billy Goat, Briggs & Stratton and Honda Engines, letting us provide you with everything you need for your overseeder including OEM replacement parts and accessories like the spring tine reel. Finding the right part is simple: just put in your model and serial number, and our site will show you factory parts diagrams and descriptions so you can find exactly what you need. Our massive warehouse lets us ship most items immediately, and we can send your order to any address in the U.S. and Canada.