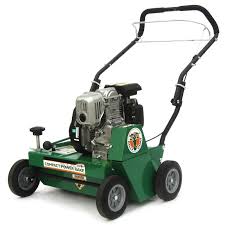 There seems to be a big gap between dethatching tools: you can use a hand rake for hours of arduous pulling of compacted grass, or you rent a big, heavy power rake that is difficult to maneuver, making it a chore to use on smaller lawns. The CR550HC fits in between these two extremes, providing the power to get the job done quickly while still being easy to maneuver around trees, fences and other obstacles.
Performance
This power rake uses a 20-inch wide flail reel to cut through and peel up thatch. Unlike other Billy Goat rakes, the flails don't have a swinging action, so there's nothing here to act as a self-propulsion system. The upside is that this simplicity means the whole unit weighs about the same as a large walk-behind mower without skimping on construction quality. When pushing the rake at 1.5 mph, it can cover 13,200 square feet per hour.
For tougher jobs, Billy Goat offers a vertislicing reel. It can thin running grasses for better drainage and easier overseeding and has no trouble cutting through taller grass. The CR550HC is designed so that the reel can be switched out in about 10 minutes, letting you set it up for the job at hand.
The cutting depth can be set between 0.5-0.75 inches using a knob on the deck. This height is infinitely adjustable to get even wear across the flail surfaces so they last longer.
Ease of Use
This rake uses a 5 hp horizontal shaft version of Honda GC series engine, a motor usually found on top quality mowers. Its overhead cam design uses a timing belt that is designed to last the life of the motor while keeping engine noise down and carrying oil to the head to keep everything lubricated. Along with precision machined components and an efficient cross-flow valvetrain, this engine uses less fuel, makes less noise and vibration, and produces fewer emissions without making it harder to maintain or use. Even starting is easy thanks to an automatic decompression system.
The CR550HC's single piece frame, low part count and fully exposed motor help limit the transfer of vibration to the operator and make the rake easier to maintain and repair. The reel rides on cast iron bearings with grease zerks for years of reliable performance, while the idler pulley is adjustable to ensure maximum drive belt life. Both the flail reel and vertislicing reel have blades that can be replaced individually if one gets bent or damaged.
The operator grips a padded handle with an interior-mounted bale reduces hand strain. That bail controls the reel clutch, making it easy to stop the reel when making turns. After the job is done, the handle folds down to take up less room when storing or transporting.
Getting Parts for Your Billy Goat Power Rake
www.billygoatparts.com is a certified dealer for both Billy Goat and Honda Engines so we can provide you everything you need for your CR550HC. Whether you need a vertislicing reel for tough jobs, some odds and ends for maintenance or major components for repairs, we can ship you what you need to any address in the U.S. or Canada.