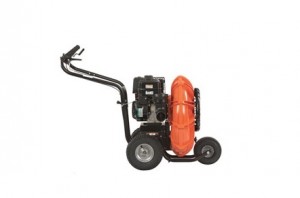 When it comes to leaf blowers, more power is always better. Billy Goat's wheeled leaf blowers already have a huge advantage over backpack blowers, and with the new F10, they make this cleanup option even more appealing. Aimed at the commercial users and homeowners who need to take care of large properties, this model combines the impeller and case of the F9 with a new, more powerful and easier to use engine from Briggs & Stratton's Vanguard line.
Power
What sets the F10 apart is its use of a single cylinder 305 cc Briggs & Stratton Vanguard engine. It produces 10 hp, more than the Honda and Subaru engines used in the F9, while only weighing a few pounds more.
Of course, power is only part of the equation when it comes to usability; this engine has a lot of features that make it more reliable and easier to maintain. It uses the Transport-Guard system which has a single switch to shut off the engine and cut the fuel supply, ensuring that fuel and oil won't mix during transport. A clear sediment cup on the carburetor makes it easy to see when it's full, and it can be drained without needing to use tools. The filter is a high capacity unit, something rarely seen outside of large V-twins, to reduce the amount of dust that reaches the intake while reducing cleaning and replacement intervals. This makes it particularly well-suited to the dusty operating environment created by a blower like the F10. The designers even made the ball bearings that hold in the crankshaft easy to replace, extending the engine's service life.
This motor also borrows a few features from their line of kart racing engines, including a connecting rod that makes the most of the splash lubrication system and a head gasket that can handle higher torque loads.
Performance
Like other Force blowers, this model uses a composite housing. Using plastic instead of metal lowest the weight by 30% while increasing efficiency and reducing noise thanks to a precision fit that eliminates stagnant areas and reduces turbulence. Inside, there's a closed face 16 blade fan that is cast in a single shot, forming the entire unit as one piece so there's nothing that can shake loose and cause vibration problems.
Together, the impeller and engine force air out of the four-inch nozzle at just under 200 mph. This model uses Billy Goat's Aim N Shoot system which lets the operator change the angle of the nozzle using a handle-mounted lever, going from low angles for open spaces to high angles to deflect debris off of and away from buildings. A rubber forward discharge elbow is also included, which snaps over the end of the nozzle.
Models
Billy Goat offers the F10 in two versions: the F1002V is a standard push model, while the F1002SPV adds a self-propulsion system. While testing the blowers, Billy Goat found that opting for the F1002SPV allows work to be completed about 30% faster on average with less operator fatigue.
Accessories
Need to make tight maneuvers around buildings and landscape features? The caster kit replaces the front wheel, letting the blower turn without lifting up the front end.
Working on steep terrain? The parking brake kit uses metal forks to clamp down on the rear tires to keep the blower from rolling.
Want to make the F10 easier to transport? The quick hold down kit bolts onto the floor of your trailer, letting you latch the machine into place without having to deal with straps.
Want to worry about one less thing when operating and maintaining your blower? Billy Goat offers a foam-filled front tire that won't go flat or need to be aired up.
Warranty
Billy Goat covers the housing for 5 years and the rest of the machine for two years. Briggs & Stratton offers a three-year commercial warranty on the engine.
Getting Parts for Billy Goat Debris Blowers
Whether you have the new F10, an older metal impeller model or anything in between, you can get everything you need for it at www.billygoatparts.com. We're a certified dealer for Billy Goat, Briggs & Stratton, Honda, and Subaru, which means we're able to ship OEM blower and engine parts across the U.S. and Canada. Our site can show you parts diagrams and descriptions direct from the manufacturer, making it easy to find exactly what you need.