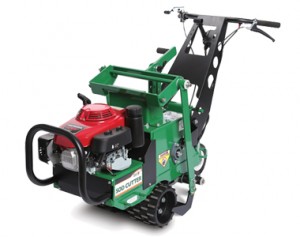 At first glance, the SC181H may not look new, but this update to their Hydro-Drive Sod Cutter brings major improvements to blade life along with some features changes that make it easier to use.
Better Cutting With Lasers
The blade of this sod cutter may look the same as its predecessor, but it's much more wear resistant thanks to the introduction of a new laser cladding process that bonds a proprietary powder coating to the blade surface. When Billy Goat tested this new coating in sandy soil, it took 180 hours to wear down 0.04 grams of edge material, three times longer than a conventional blade. Whether you're cutting through sand or soft clay, this advancement means less frequent blade changes and less downtime, helping your bottom line.
The Same Rugged Construction of Its Predecessor
This machine is still powered by a 133 cc Honda GVX that makes 5 hp, and it's still built around the strongest frame in the industry, combining a 3/8 inch steel sub-structure with a ½ inch steel lateral support. The gearbox is built to match with oversized sealed bearings, shaft-mounted eccentrics and a one-inch lateral stability bar. Oversized isolation mounts are used on the handle and every major component to limit the transmission of bumps and vibration to the operator.
The drive system uses a maintenance-free Hydro-Gear RT310 transmission. This hydrostatic unit, usually found in snowblowers, allows infinite adjustment in both forward and reverse, and has a transport speed of 3.5 mph, making it the fastest model in the market. The transmission now uses the same fingertip control found on Billy Goat's hydro-drive overseeder and brushcutter, making it easy to adjust speed on the fly to keep the cutter going through tough soil and roots.
The "Set and Forget" blade adjustment is set from the operator controls using a single lever. The blade can be lowered enough to cut up to 2.5 inches deep. The cutter comes with an 18-inch blade and can be fitted with a 12-inch blade for working in tight quarters.
The rear of the machine rests on a caster that can be left free to maneuver around landscaping features and buildings or can be locked into place to get consistent straight cuts on open turf. The Golf Applications version of the SC181H is fitted with knobby rollers to help it glide over turf and make lighter, softer cuts.
There are now 6 tie-down points instead of four, making it easier to secure to trailers and truck beds when moving between job sites. Like all of Billy Goat's products, the designers put a lot of effort into making repairs as simple as possible, requiring a few common tools for replacing blades and belts and adjusting pulleys and cables. There's even an hour meter, a rarity on equipment this small.
Warranty
Honda guarantees the engine for three years of commercial use, while Billy Goat guarantees the rest of the sod cutter for one year.
Getting Parts for these New Sod Cutters
Whether you have the standard SC181H or the golf turf version, you can get everything you need for your sod cutter at www.billygoatparts.com. As a certified dealer for Billy Goat, Hydro-Gear and Honda Engines, we're able to ship replacement parts and accessories for Hydro-Drive sod cutters and everything else that Billy Goat makes to any address in the U.S. and Canada. Our site has built-in factory information including parts descriptions and exploded diagrams so you can find exactly what you need.