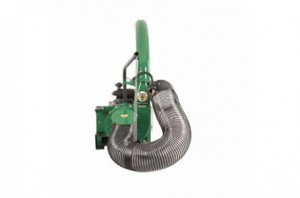 What do you want from your debris loader? More power? Lower operating costs? Ease of use? The new Billy Goat 3700V is first debris loader on the market with a Briggs & Stratton Vanguard Big Block with EFI, helping it deliver all three improvements at once.
Engine
The big news for this new model is its engine, a Vanguard EFI Big Block. At just under one liter of displacement, this V-Twin produces 37 HP, putting it at the very top of the market. However, it's the fuel injection that really makes this model stand out. It uses a closed loop system like you'll find in modern cars, monitoring both the intake and exhaust to tune fuel delivery. This reduces 25% lower fuel consumption over carburetor-equipped models. It also allows the fuel mix to be adjusted depending on available air, so users in high altitude areas don't have to fit new parts to get the engine to run correctly. EFI also makes cold weather easier to deal with, eliminating the need for a choke while starting far more easily at low temperatures. Battery electric start comes standard.
The injectors themselves have a fine spray pattern and use a high operating pressure. This makes the fuel system less sensitive to ethanol blends and stale fuel, avoiding problems with corrosion and gumming.
The rest of the engine is everything you expect from a Vanguard. The lubrication system is fully pressurized and comes with a spin-on filter and a cooler to control engine temperatures while extending oil change intervals. The centrally-located oil pump primes faster to reduce engine wear on start-up. Cast iron cylinder liners can handle hundreds of hours of use, while a cyclonic air filter stays cleaner longer, even in the dusty environments experienced by debris loaders.
Performance
The engine spins 20-inch impeller fitted with Billy Goat's Piranha blades. As debris passes through, 18 cutting points break down material by as much as 12:1 so you can carry more debris with each load. The housing has a replaceable polymer liner that takes the brunt of abuse as leaves, lawn clippings, and other matter are drawn through. At maximum throttle, the 3700V moves air at a rate of 5,050 CFM.
Debris enters the loader through a 14 inch by a 10-foot clear hose. This hose attaches using a tool-free, thread-free clamp, making it easy to remove during transport and reattach when you're ready to work. At the other end, the 8 inch wide, 360-degree rotating exhaust can be adjusted without requiring tools, making it easy to aim into truck beds and trailers. A rake holder is built into the skid mount so you'll always have your lawn care tools on hand.
Accessories
The 3700V comes on a skid mount that can be bolted down to a cargo trailer or mounted on Billy Goat's trailer kit. This highway class trailer is pre-wired with lights, letting you tow it on any road.
Need a little more reach from the chute? The metallic exhaust hose kit adds a flexible 10-foot extension to help direct debris, while the exhaust deflector kit adds an adjustable metal plate to change the angle material exits the chute.
Getting Parts for this New Model
Whether you have older equipment or a brand new 3700V, you can get everything you need for your Billy Goat from www.billygoatparts.com. We're a certified dealer for Billy Goat and engine manufacturers including Briggs & Stratton so we can ship any part you need to any address in the U.S. or Canada. Need help finding a part? Our search engine has integrated factory parts diagrams and descriptions to help you locate exactly what you need.