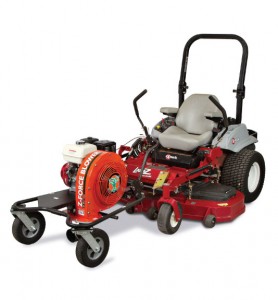 Billy Goat customers almost always opt for standalone blowers in the company's "F" series, but some buyers might be able to get away with selecting the add-on FZ blower instead. Designed for full compatibility with ZTR mowers, the Billy Goat FZ blower is a simple lawn mower add-on that brings the same level of power and performance often associated with stand-alone Billy Goat blower models. Its attachment nature makes it even easier to use, thanks to its ability to tap into existing mower drive systems that tote the blower along for the ride. With powerful velocity and excellent, efficient performance around the home, the FZ is a unique way to clear fall foliage or seasonal debris with minimal fatigue and quick completion of routine tasks.
The Specs: How Billy Goat's FZ Blower Attachment Clears Debris
As with any blower, the Billy Goat model needs to perform at a high level in order to work for both homeowners and commercial customers. That's no problem with the FZ model. This attachment blower comes with a 13-horsepower, commercial-grade Honda engine that is easily the most powerful on the market for those buying an attachment blower. This powerful engine allows the FZ blower to put out up to 200 miles per hour of sheer velocity when clearing foliage and debris from outdoor spaces. It also gives the equipment enough power to propel the large, included fan, with a total of 16 blades that measure up to 17 inches in length.
Billy Goat's FZ attachment blower weighs 192 pounds, which is heavier than most standalone models. This is not a problem, however, since ZTR mowers will be responsible for carrying the equipment around outdoor areas. The FZ model is 42 inches long and 33 inches high, with an expansive, 35.5-inch width. A four-inch discharge allows the FZ to clear debris away from the mower, while 12×3 casters permit for elevated, safe, and effective work that won't easily suffer from damage when bigger debris or obstructions are encountered.
Great Features Make the FZ Blower a Match for Homeowners and Others
The FZ attachment blower comes with a few unique features, based on its attachment-style design and its use of a commercial-grade Honda engine. The equipment is easily attached to any ZTR riding mower currently on the market via included, heavy-duty JRCO mounting brackets. If needed, these brackets can be swapped out for different sizes and widths, so that the blower fits onto an existing mower. Easy attachment and detachment takes just a few moments of the operator's time, and utilizes the blower's included front casters to minimize the amount of heavy lifting required.
The blower comes with a 360-degree discharge system that is fully rotational using a built-in, magnetic foot pedal. This flexible discharge system is designed to accommodate virtually any ZTR mower design, so that the air and its significant velocity don't conflict with mower discharge or other features. The JRCO brackets also allow for floating attachment to the mower, so that the blower's rear lifts or adjusts downward to accommodate fluctuations in terrain.
The FZ blower is designed with a wrap-around safety guard made of stainless steel. This guard's unique design makes sure that air doesn't leak out of the blower, and it keeps moisture away from the fan blades inside. This reduces the maintenance required, thanks to a reduced risk of corrosion as well as a reduced risk of blade damage or rust over time.
Use OEM Billy Goat Accessories to Increase Blower Safety and More
Billy Goat's FZ blower accessories focus mostly on greater compatibly and ease of use. Perhaps the most popular accessory for the FZ is the optional JRCO bracket. Brackets can be purchased in various sizes and configurations to meet the demands of any ZTR mower currently on the market. Another key feature is the fingertip control trigger, which brings Aim N Shoot operation to the FZ blower. This fingertip control is standard on the company's standalone blowers, and its addition to the FZ allows for more targeted control over wind, larger debris, and concentrated blower features.
Get the FZ Blower and OEM Replacement Parts at BillyGoatParts.com
The FZ blower represents a significant value to those who already have a ZTR mower: Instead of buying all-new standalone equipment, the FZ allows equipment owners to simply extend the mower and do even more work around the home. For those who have already invested in this convenient addition to their landscaping equipment lineup, OEM replacement parts might be required for regular maintenance or occasional repairs. BillyGoatParts.com can help with these parts, and with new FZ blower models, thanks to an intuitive online parts search form. Thanks to this and other tools, those looking for the right fit, whether it's a new blower or new parts, can easily find what they need at BillyGoatParts.com.