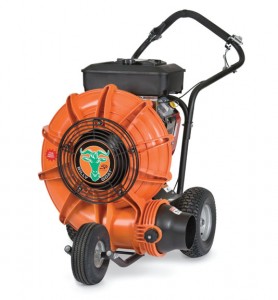 When it comes to the best in raw power and overall velocity, few blowers can stand up to the performance of the Billy Goat F18. This model is designed to function as the company's highest-end offering for commercial and municipal buyers, as well as homeowners that have an extensive amount of acreage to cover when eliminating fall foliage, debris, or other problems that might otherwise negatively affect the health of the turf. The F18 is thoughtfully designed to enhance operator comfort and durability, as well as some impressive engine specifications that help to produce great velocity with efficient use of fuel. Reviewing the F18 blower's top features and specifications will give prospective buyers the clarity they need to determine whether this model is a great fit for their outdoor areas.
The Features: How Billy Goat's F18 Ultimate Blower Pulls Ahead of the Competition
Billy Goat's entire lineup of blowers is characterized by some pretty impressive features, many of which are entirely unique to the Billy Goat brand. The most prominent of these features, which can be found on each of the company's current models, is Aim N Shoot precision technology. While competing blowers produce a wide swath of air, Aim N Shoot focuses air into a narrower stream, hitting heavier debris or larger piles with a burst of air that more easily gets them out of the way. The Aim N Shoot feature is doubly convenient, with fingertip control that allows easy use of this narrow stream of air alongside more conventional blower use.
The Aim N Shoot feature is hardly the only selling point of the F18 Ultimate blower model. The equipment also comes with a smooth and rounded external housing, designed in such a way so that air cannot leak out and moisture cannot leak in. This has two primary effects. The first of these is simply the ability to more closely concentrate air and ensure that every last bit of that air is focused on removing debris from outdoor areas. The second big impact of this unique external housing design is its ability to ward off moisture and completely resist rust or any water-related damage in the process. This makes the blower a highly durable, all-weather
For operator control and comfort, the F18 Ultimate comes with a few excellent additions. The F18 can optionally come with self-propelled wheels, making it easy to tote the equipment between parts of larger lawns. The F18 also comes with a very quiet engine and materials that actually reduce both noise and vibrations that come from internal components. This reduces muscle fatigue, repetitive stress, and even headaches, which might result from competing models.
Engine and Other Specifications Make the F18 a Great Fit
In order to perform at a high level in all settings, Billy Goat paired its F18 Ultimate blower with a 570cc, commercial-grade Vanguard engine. The engine powers a 16-blade fan system with blades up to 17 inches in length, allowing the F18 Ultimate to produce up to 200 miles per hour of velocity during regular use. The equipment does not use this powerful engine, or its large blades, as an excuse to be excessively heavy. The entry-level model weighs in at just 170 pounds, while the upgraded model with self-propelled operation is slightly heavier at 183 pounds. Both models are easy to tote around the home, around commercial facilities, and in equipment trailers between jobs.
The F18 Ultimate blower measures 58 inches long and 45 inches to the top of its ergonomic handle. The equipment comes with a 29.5-inch width, making it one of the more compact high-end models currently available. Certainly, this smaller size makes the F18 easy to haul in trailers and even easier to store in garages, tool sheds, or municipal storage facilities as required.
Extend the F18 Ultimate Blower with OEM Billy Goat Accessories
The blower's stability and maneuverability can be enhanced with an optional caster wheel kit from Billy Goat. These wheels are easy to attach, and are considerably smaller the four standard wheels included at the time of purchase. They fit into tight spaces with ease and make the blower easy to transport overall.
Equipment owners can also choose from several accessories that enhance safety, including an optional parking brake and foam-filled replacement tires. A quick hold-down kit makes it even easier to haul the blower securely in a trailer.
Visit BillyGoatParts.com to Find the F18 Blower and OEM Replacement Parts
BillyGoatParts.com is a leading online resource for those considering Billy Goat's unique lineup of blowers or the OEM parts required to keep the equipment in great shape. The site's online parts lookup tool allows equipment owners to find parts based on the engine manufacturer, the blower model number, or the specific part number required for service or replacement. Those who haven't yet gotten their hands on a Billy goat F18 can also find a full lineup of new blowers to meet their unique commercial or residential needs.