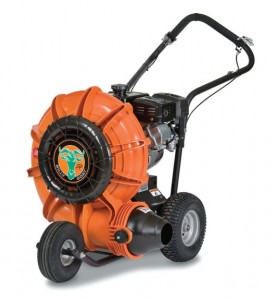 Professional landscapers have long had a large number of choices when purchasing a commercial blower to handle everything from debris to fall foliage. Billy Goat's F9 model, however, might just be the best of the bunch. The blower is specifically designed to resist common problems that lead to maintenance or even cause early replacement of lesser blowers. It comes with a significant amount of horsepower and velocity, and is still able easily be toted around larger outdoor areas without a significant amount of effort. Thanks to its excellent engine, powerful amount of wind speed, and compact design, the F9 is a natural fit for commercial professionals who are limited on space but don't wish to be limited on capacity or raw power.
Features for the Commercial Landscaping Professional
Billy Goat's F Series of commercial blowers sometimes finds a home with average consumers, but is more often the natural choice for commercial landscapers and professionals. That's because these blowers come with a unique, compact design, and more velocity than similar commercial models. Their compact design makes them ideal for hauling in space-constrained trailers, and their unique "Aim N Shoot" technology ensures easy work even from a distance. Among the top features for F9 blower buyers:
The F9 blower, like others in this lineup, comes with Aim N Shoot technology that makes it easier to handle specifically larger debris items, piles of leaves, or other objects that need to be handled swiftly or from a distance. Aim N Shoot concentrates the blower's velocity into a narrow stream, and focuses it wherever the operator points the hose. Within a matter of seconds, even heavier objects or more significant debris can be eliminated from view and dispersed to the outer edges of a large outdoor space.
 Low Weight, Ergonomic, and Designed to Resist Corrosion
Every aspect of the F9 was thoughtfully considered by Billy Goat engineers as they came up with its design and selected its materials. The blower, despite lacking a convenient backpack design, is still among the lightest in this class. This light weight, plus a self-propelled option, makes it easy to wheel the equipment anywhere its services are required, all without minimal effort or hassle. An ergonomic handle design and hose configuration ensures that comfort is enjoyed throughout each step of the process. Further, dent-resistant and rust-resistant panels ensure a lighter weight and a distinct lack of damage, corrosion, and future maintenance headaches.
 An Advanced, Quiet Fan and Engine
Blowers can be notoriously loud when they're producing up to 200 mph velocity like this model promises to do. Luckily, Billy Goat developed an advanced, 17-inch fan with 16 blades that significantly lowers the noise level. A finely tuned engine also does its part to reduce noise and vibrations, aiding operator comfort in a significant way.
F9 Blower Specs Reveal an Impressive Piece of Equipment
The F9 blower's impressive list of features is only possible because of great hardware specs and unique designs. Central to the blower's operation is two engine choices. The entry-level F9 comes with a 262cc Honda GX engine, while an upgraded model can optionally come with Subaru's 265cc EX engine instead. The engine powers a 17-inch fan that comes standard with 16 blades. That's significantly more blades that competing models, which adds to the blower's velocity, efficiency, and quiet operation.
The heavy-duty, included fan in the F9 blower can produce wind speeds of up to 200 miles per hour. With Aim N Shoot technology, this can be laser-focused on debris or other targets to make quick work of outdoor cleanup. The blower measures 58 inches long, 45 inches from the ground to the handle, and just under 30 inches wide. This makes it compact and exceedingly easy to haul between locations.
Available Accessories Make the F9 Blower Even More Useful
While the F9 is perfectly designed for easy transportation and operator comfort, a few additional accessories can enhance this reputation dynamically. The first of these is a caster wheel kit, which adds greater stability and easier transit to the F9 blower. Foam tires make things more durable, while a tie-down kit makes it easy to secure the F9 in place when hauling the equipment in a trailer. An optional parking brake add-on keeps the equipment locked into place on steep terrain or in other challenging areas outdoors.
F9 Blowers and OEM Parts Can Be Found at BillyGoatParts.com
Whether it's a brand new F9 blower or the OEM replacement parts that keep the equipment working in like-new condition for many years of ownership, BillyGoatParts.com has what landscaping professionals need to get the job done. With a full selection of blowers, and a parts search tool that filters available options by model number, equipment type, engine manufacturer, or part number, it's easy to find the best equipment for virtually any landscaping concern or maintenance requirement.