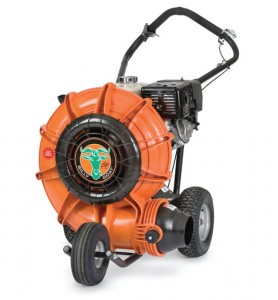 Billy Goat is one of the leading names in power equipment for both commercial and residential users, and its lineup of blowers easily standards up to the tough standards of commercial power equipment buyers. The company's F13 is designed to provide the ease and comfort of compact size and quiet operation, while giving commercial contractors and municipal workers the convenience of a powerful engine, exceedingly high velocity, and precision blowing technology that makes it easy to clean up even the most significant foliage, debris, or other messes throughout the year. Those considering a commercial blower should familiarize themselves with Billy Goat's innovative features and technologies when considering available models already on the market.
Great Features for Contractors and Municipal Landscaping Workers
The key to success in the competitive commercial power equipment industry is differentiation and added convenience, and the Billy Goat F13 blower model brings both of those to today's commercial customers. The equipment's most prominent feature is perhaps its Aim N Shoot technology. Unlike other blowers, which blow a wide stream of air and hope for the best results, Billy Goat's F13 features this enhanced technology for more precise clearing of messes outdoors. The Aim N Shoot system projects an exceedingly narrow stream of air and, thanks to this added focus, the air produced can handle even heavier types of debris with relative ease. This Aim N Shoot feature is perhaps the most alluring for commercial professionals, but it's not the only one.
The F13 blower is also designed for maximum comfort during extended outdoor clearing work. Billy Goat's engineers have given the blower perhaps the most ergonomic handle design of any model currently on the market, which works to significantly reduce operator fatigue during longer work. The equipment also features a far lighter design than competing models at the commercial level, and comes with vibration-reducing materials that can significantly reduce repetitive stress and operator fatigue in most environments.
The Billy Goat F13 blower is designed with a highly compact footprint and a lighter overall weight. The equipment is therefore far easier to store, and is much easier to tote around large outdoor spaces that are common in municipal or commercial environments. Even better, the F13 comes with optional self-propulsion that can be engaged as needed. The equipment also features rust-resistant materials that will give it a longer usable life than many competing options in the commercial space.
A Look at the Specs That Help Get the Job Done Outdoors
Many commercial users might be sold on the Billy Goat F13 blower model based only on its features, but it's worth considering the equipment's performance and raw power. To easily handle any commercial task it encounters, the F13 was given 393cc Honda GX commercial engine. This is easily one of the best engines for commercial users, with the right combination of horsepower and fuel efficiency to get most tasks done without stopping or refueling. The engine, in combination with a 17-inch, 16-blade fan system, produces air at a velocity of up to 200 miles per hour. That's on par with competing models that are far larger than the Billy Goat F13.
For the purposes of mobility and hauling, the Billy Goat F13 blower weighs in at just 152 pounds for an entry-level model, and 165 pounds for a model with slightly upgraded engine features. The equipment has pneumatic wheels and self-propulsion, with a 58-inch length, a 28-inch width, and a height of just 45 inches when the handle is included. Fitting this model into equipment trailers will be easy for virtually all commercial contractors, while local storage will be convenient for municipal equipment buyers.
Available Billy Goat Accessories Enhance Equipment Ownership
The accessories produced for Billy Goat's F13 blower make it even more useful in commercial settings. A quick tie-down kit makes it easy to haul the equipment, while optional caster wheels add stability and make the blower even more portable around the home or in commercial storage areas. An add-on parking brake increases safety, while the availability of foam tires increases the blower's durability in challenging terrain or in areas where debris could puncture more traditional tires.
Find New F13 Blowers and a Range of OEM Billy Goat Replacements at BillyGoatParts.com
Billy Goat's F13 blower is a natural choice for commercial work, with a powerful engine and precision technology that drives up efficiency and productivity across the board. Those looking for a new F13 blower model will find exactly what they needed at BillyGoatParts.com, while those who need to conduct routine maintenance will be treated to a superior experience as well. BillyGoatParts.com features an online tool that filters parts by engine manufacturer, part number, or equipment model number, which takes the worry out of finding the most compatible parts for any maintenance or repair need throughout the year.