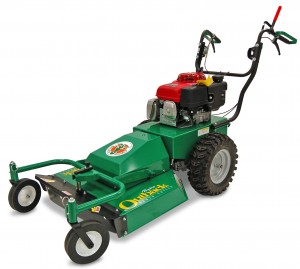 Billy Goat's primary market is located in North America, where consumers in the United States, Canada, and Mexico purchase its brushcutters in order to maintain particularly challenging areas around the home with significant overgrowth. These areas are not the only ones that need to handle this problem, however. Recognizing this, the company developed its Billy Goat BC26HHEU brushcutter for international buyers across Europe and in limited other locations. This model is based off of the BC26 option sold to domestic consumers, but features slight adjustments to make it compatible with European power, gasoline, size, and safety regulations.
A Look at Important Features of the International Model
Though the international version of the BC26 brushcutter is identical in its cutting width, the equipment is not actually identical in physical appearance. In fact, this international mode is a bit more low-profile than its North American counterpart, with smaller features toward the front and back, maneuverable front wheels, and different rear tires. The international brushcutter does, however, still bring plenty of operator-centric features, horsepower, and flexibility to any area that might need a significant reduction in tall, thick, thorny brush.
The BC26HHEU brushcutter features an adjustable cutting deck, which actually isn't found on either the BC24 or the BC26.This allows the equipment to cut brush down to just 4.5 cm, though operators are free to adjust the deck upward for longer cuts. At its highest position, the cutting deck leaves behind a trail of 9.5 cm brush that can be handled latter by different equipment. Cutting work is bolstered by the heavy-duty BC26 spindle and a highly rigid cutting deck that was specifically designed to withstand brush, stumps, rocks, and other types of large debris. The deck therefore resists bending, warping, denting, or other damage that might subject the brushcutter to repair service at a local retailer.
The front wheels are highly maneuverable thanks to their caster design. Under the right conditions, they can pivot a full 360 degrees in order to accommodate sharp turns, smaller clearing areas, or more challenging landscape features. Comfortable operator controls, which feature vibration-reducing padding and knuckle guards, make it easy to control the brushcutter's direction as well. Both features directly benefit the long-term productivity of the brushcutter in most environments, including steep grades. Thanks to the inclusion of a powerful, commercial-grade Honda engine, the brushcuttter is able to cut perfectly on grades of up to 20 degrees.
The equipment also features the Tuff Torq transmission, which is fully-featured and comes with enhanced stability and traction control. When combined with steeper grades, this allows the brushcutter's commercial-grade rear tires to withstand wet or damp conditions with ease. Given how persistent moisture can be when brush stretches up to 6 feet in length across a wide area, this is a must-have feature that improves operator safety rather dramatically.
The Specs: A Similar Machine for International Buyers
For all of its operator-centric features and unique designs, the BC26HHEU brushcutter still needs to provide sufficient horsepower to ensure that it can handle thicker, taller brush than the competition. Luckily, this will not be an area of concern for those who choose the Outback model over its competitors. The primary selling point of this internationally targeted model is its use of a Honda engine. Rated at 13 horsepower, this engine is no stranger to raw power and will make sure that the brushcutter handles even the thickest or tallest obstruction during clearing. Notably, this is the only one of Billy Goat's Outback series brushcutters that does not feature a choice of different engine sizes or manufacturers.
Also unlike its BC24 and BC26 counterparts, the BC26HHEU model does not feature a choice between electric ignition and traditional starter grips. Consumers are able to choose only a conventional starter pull-cord for their needs. Even so, the Honda engine included with this model is optimized for such situations and should still be considerably easier to start than several other engine options paired with other brushcutters. With its 66 cm clearing width, the full scope of the BC26HHEU measures 79 cm wide and 203 cm in length, with a low profile that makes it a great fit for space-constrained storage sheds or commercial facilities.
BillyGoatParts.com Has New Brushcutters and a Wide Array of Parts
New brushcutters are the best way to handle challenging overgrowth around the home, but this isn't the only concern that many customers have. Long-term Billy Goat equipment owners typically are looking for all kinds of OEM parts that can satisfy the regular maintenance needs of the Billy Goat Outback Brushcutter series. BillyGoatParts.com offers an online parts lookup tool that features filtering by model number, equipment type, part number or engine manufacturer. For those who want parts that stand up to the same quality level as Billy Goat equipment options, and can't risk using an incompatible part, this is a great way to overcome both hurdles easily.