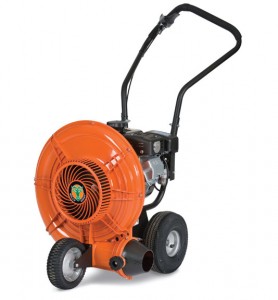 If there's one piece of equipment that every homeowner and commercial landscaper needs, it's a blower. While mowers and trimmers get all the hype, it's the high-powered blower that turns everything from leftover clippings to fall foliage into a mere memory. The Billy Goat F6 is designed to do these tasks and more, with unique technology that targets bursts of wind and easily handles massive outdoor areas in just a few moments' time. The equipment is compact and light, designed for effortless storage around the home, and powerful enough to find multiple uses even in commercial applications. If raking or clipping-bagging has become too much of a burden, it's time to give this blower's features and specs a strong consideration.
A Big Difference: The Exciting Features of the Billy Goat F6
There are plenty of blowers on the market for both residential and commercial use, but few of them offer the right combination of utility, usability, and compact size. The Billy Goat F6, however, hits a sweet spot that makes its option the best for all kinds of customers. It all starts with the blower's housing. Unlike competing options that feature large amounts of plastic and a huge overall footprint, the F6 actually uses a small, rounded metal housing that is far sleeker, more durable, and smaller than the competition's options. That means this blower will tuck nicely into a garage or storage shed, without stealing space from existing mowers, trimmers, or even the family car. The housing is just the beginning, however.
Moving away from the housing, Billy Goat's F6 blower is part of the only lineup on the market that features patented Aim N Shoot technology for spot-clearing around the lawn. This unique technology actually allows fingertip control over the direction of air, creating a narrow channel that can clear smaller areas within an expansive area of turf. It's perhaps the perfect feature for taking care of wind-gathered leaves or clippings and, because of the blower's long reach, it's a great way to save time clearing only certain patches of the lawn throughout the year.
The raw power and wind speed available with this model is partially to the credit of two strong engines. More than that, though, the wind speed can be strongly attributed to the 16-blade fan that lies just beneath the rounded metal housing. This design is highly unique, and offers twice the amount of blades found on competing blower models. The result is not only more efficient production of wind itself, but also faster wind speeds in a much smaller and quieter package than most consumers are used to.
The Specs: How the F6 Cranks Up the Wind On Demand
Thanks to the included 16-blade fan, Billy Goat's F6 blower is capable of producing just under 200 miles per hour of total wind speed. As mentioned earlier, however, it isn't just the innovative fan that makes this happen. The other side of the equation is one of two powerful engines, with high displacement and even higher efficiency. The company's entry-level F6 model features a 169cc Subaru engine that's among the most powerful and durable in its class. Those who need just a bit more power under the metal housing will want to upgrade to the company's commercial-grade, 205cc Vanguard engine instead. Both of these options provide a superior experience, but the Vanguard engine adds a little extra power and wind speed for slightly larger outdoor areas.
Weighing in at 76 pounds, the F6 blower has a 3.5-inch discharge and a width of 22 inches. The equipment is 43.5 inches long and just 45 inches tall, which makes it easily stored in even the tightest spaces. A long hose is included, through accessory upgrades allow for an even longer length for spacious outdoor landscaping needs.
Accessories Extend the F6 in Great Ways
The most popular accessory sold for the F6 blower is easily the 10-foot hose extension, which allows the equipment to reach even further without toting it around the lawn excessively. A forward discharge attachment is also available, which might be a better fit for some smaller spaces where standard discharge might not be a very good option due to obstructions or tight areas.
Clean Up Nature's Mess with a New Blower or Replacement Parts
Mother Nature can make quite a mess as the seasons transition from summer to fall, which is perhaps the best time to have a high-powered blower on hand. The Billy Goat F6 is good in all seasons, however, and it's a good idea for those interested in this powerful piece of equipment to check out their options at BillyGoatParts.com. The site features a full lineup of Billy Goat power equipment selections, and is home to a parts lookup tool that makes it easy to get repairs done. Parts can be filtered by model number, part number, an engine manufacturer, assuring compatibility and Billy Goat's same, strong commitment to quality.