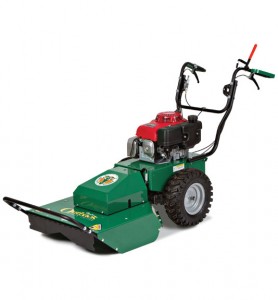 Billy Goat is one of the best names in both home and commercial landscaping, and the company's lineup of Outback Brushcutters is further proof of this reputation. With a combination of rigid materials, comfortable operator amenities and powerful engines, the Outback series is designed to handle some of the thickest, tallest, most persistent brush anywhere around the home or a commercial setting. The equipment is designed for maximum convenience, with innovative ways of discharging brush, working in challenging terrains, and sipping fuel despite utilizing heavy-duty, commercial-grade engines. Those in the market for a new brushcutter should consider this crucial piece of upgraded equipment to get the job done quickly and effectively.
Great Features for the Commercial Buyer or the Typical Homeowner
Cutting down brush is an intensive task, and one that can cause quite a bit of operator exhaustion or injury if the tool being used doesn't have some thoughtful features in place. The designers and engineers at Billy Goat have taken this into account, with a number of key developments that protect the safety of equipment operators while effectively working through bush that measures up to six feet tall and two inches in diameter.
Perhaps the first of these is the development of the Tuff Torq transmission system. Unique to Billy Goat equipment, the Tuff Torq transmission comes paired with enhanced stability control that keeps the brushcutter upright even when it slips and slides on particularly steep grades. Because brush can often remain wet and tough to manage long after storms have passed, this is a crucial safeguard that looks out for operator safety even under less-than-ideal clearing conditions.
Another key development for operators is the inclusion of padded control handles that come with knuckle guards. Padding actually reduces the amount of vibrations absorbed during typical use, with materials selected specifically for their ability to promote long-term comfort and reduce fatigue. The knuckle guards work well with the most common types of brush, which can be rough, thorny, and particularly damaging to the skin. These two features ultimately look out for both the health and safety of brushcutter operators, and they make it easier to clear for long periods of time without interruption.
Another excellent development unique to the BC26 is its versatile deck that can be dynamically pivoted during operation. This allows the brushcutter to change direction more easily than competing models, and even more easily than the competing BC25 Outback Brushcutter also sold by Billy Goat. The pivoting deck stands alongside the BC26 blade spindle and highly rigid deck, giving this piece of equipment a great deal of durability and flexibility as it clears thicker brush and encounters debris. In fact, these materials and designs also allow the BC26 to roll over or past stumps, large rocks, and other major obstructions, without becoming damaged or clogged.
Engine Specs and More: How the BC26 Powers Through Challenging Brush
All of the BC26's great features are due to the machine's overall high level of horsepower and under-the-hood sophistication. This starts with Billy Goat's two engine choices. Consumers can opt for two models of the BC26 brushcutter, with the primary difference being the choice between a lower-powered Briggs and Stratton engine or a more powerful Honda engine. The BC226001CH model comes with a 344cc Briggs and Stratton engine that not only powers the equipment forward, but also handles grades of up to 15 degrees. The upgraded BC2600HH and BC2600HEBH models come with a 388cc Honda engine that can handle grades of up to 20 degrees.
Most models, including the base Briggs and Honda options, come with a pull-start mechanism, which uses a traditional starter grip. The BC2600HEBH model comes not only with a powerful Honda engine, but also an electric starter that makes the ignition process considerably easier.
All of the BC26 models clear a path of up to 26 inches wide, and weigh between 309 pounds for the base Briggs model, to 341 pounds for the high-end Honda model with electric start. Overall, the equipment measures 31 inches wide and has a length of 83 inches. This makes it a pretty compact option, and storage in even more compact garages and sheds should be easier than competing models.
New Brushcutters and OEM Parts Available at BillyGoatParts.com
Billy Goat is one of the best names in the industry when it comes to taking on serious amounts of brush, weeds, or other distractions around homes and businesses. The company's BC26 is an important piece of equipment for commercial professionals and some homeowners, who need to be able to remove significant amounts of tall, thick brush from concentrated areas. Whether it's a new BC26 model or the replacement parts needed to keep the equipment in top shape well after the initial purchase, BillyGoatParts.com can help. An online parts locator and numerous filtering tools make it easy to find the right OEM replacement.