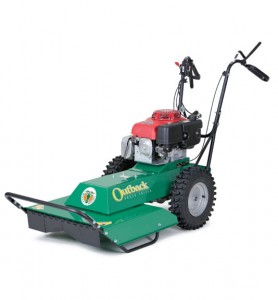 There are a few ways that people commonly deal with brush that's intruding on outdoor recreation areas or causing harm to other plants around the home: With a saw, with heavy manual tools, or with a decision to simply ignore the problem a bit longer. Clearing brush can seem like an intimidating prospect when using all three of these approaches, but Billy Goat has come up with a solution that will make it a task worth pursuing.
The company's BC24 Outback brushcutter gives homeowners and commercial landscapers the horsepower they need to get rid of brush and do it quickly. The equipment's powerful engine, combined with a relatively wide front end, make it a natural fit for clearing around lawns or in wooded areas that have become overgrown. Its compact size and easy maintenance features make it great for novice users and intuitive for people of all experience levels.
The BC24 Comes with Some Pretty Impressive Features
A good brushcutter needs to be both durable and convenient during operation, and the BC24 covers both of these bases with ease. It all starts with the equipment's overall design, which features a low-profile front-end to mask the blades lurking beneath the metal exterior. The rear of the equipment serves as a sort of discharge chute, with a unique mode of operation that allows debris to simply roll out of the discharge and create a pathway for the operator. The convenience of this design is matched by the dependability of other key features.
Perhaps the most important feature is the use of heavy-duty, puncture-proof rubber tires. Brush is notoriously thick and occasionally thorny, which might cause serious problems for lesser brush cutting equipment. The BC24 model, however, uses thicker tires that are specifically designed to stand up to heavy impacts. In fact, they're designed to stand up to much more abusive treatment than what this brushcutter and its engine can throw at them. The result is significantly less maintenance or unexpected adjustments as the task proceeds. Injury to the tires is mirrored by a commitment to reducing operator injury. The handles used to power and steer the brushcutter come with built-in knuckle guards, designed to keep hands away from the harsh abuse that can result from trimming brush and casting it aside.
Thanks to a choice of two powerful engines at the time of purchase, the BC24 can capably handle even the most challenging cutting conditions. The equipment is rated capable of handling brush up to six feet tall, which is miles ahead of most competing options in the consumer market. Thanks to significant amounts of horsepower provided by the engine, the brushcutter can also clear on steep grades of up to 20 degrees. Again, that's a significant improvement over the competition. A unique deck design also makes the BC24 largely impervious to major obstructions like rocks and stumps.
The BC24 Outback Brushcutter's Specs Are Also Impressive
The numerous great features offered by Billy Goat's BC24 brushcutter would not be possible without an impressive list of specifications that propel the machine forward through such treacherous conditions. The first of these is a choice between two engines. Buyers can opt for the BC2403IC model, which features a Briggs and Stratton engine with up to 344cc of displacement. Alternatively, they can choose the BC2403H model with a commercial-grade Honda engine capable of producing up to 388cc. Both engines are at the top of their class, but the Honda is a bit better on steep grades or with particularly tall brush around the home.
The BC24's uniquely rigid cutting deck measures 24 inches wide, allowing it to clear expansive paths and limit the amount of time it takes to get the job done. This is a fixed-height cutting deck, so there is no ability to adjust for obstructions other than manually moving or lifting the brushcutter as needed. All told, the 24-inch clearing deck can handle up to 28,600 square feet per hour. The equipment itself measures 27 inches wide and just over 87 inches long. This compact width allows the brushcutter to weigh in at just 257 pounds, making it impressively light for its size and capabilities. An electric starter is available on some models, though a traditional starter grip is the standard way of getting the equipment running.
Search for Billy Goat Brushcutter Parts at BillyGoatParts.com
Whether it's a bit of regular maintenance or a quick repair after some really challenging brush clearing, replacement parts are simply a part of owning Billy Goat equipment. The online part search tool at BillyGoatParts.com is a great way to find the best part for any need, thanks to its ability to filer parts by the equipment type, model number, part number, or engine manufacturer. Quick and easy parts replacement is made just a bit more convenient with this unique tool.