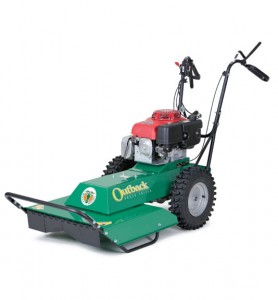 One of the best ways to maximize acreage around the home is to use a brushcutter to remove brush from the picture and extend the useable lawn space that would otherwise go completely unnoticed. When the time comes to tear down brush, whether to expand the lawn or merely to keep other areas from overgrowing and causing serious problems, a Billy Goat brushcutter is the perfect way to slice through even more challenging conditions. The company's three available brushcutters are designed to leverage sharp blades, heavy-duty metal materials, and high-powered engines, in order to provide great results no matter how challenging the brush, how uneven the terrain, or how expansive the parcel of land is that must be managed.
Billy Goat BC24 Series Outback Brushcutter
The BC24 brushcutter is Billy Goat's entry-level model for those homeowners who have smaller or more even areas that need to be managed on an ongoing basis. The brushcutter is therefore slightly smaller in size, with a somewhat smaller engine and more consumer-friendly controls. The BC24 features either a Honda engine or one from Briggs and Stratton, based on consumer preference. The Honda engine is the mower powerful of the two, producing up to 388cc of displacement, while the Briggs and Stratton alternative is more compact and can produce up to 344cc of displacement in typical conditions.
The BC24's model number comes from its 24-inch width and its 24-inch clearing capability. This impressively wide width, especially for a consumer-focused model at the entry-level, can clear up to 28,600 square feet per hour under optimal conditions. For maximum durability and operator comfort, the BC24 comes with a rigid deck and a unique set of knuckle guards that makes the operator controls safe from cuts and bruises when getting rid of taller brush. Though the BC24 is an excellent entry-level option for those with smaller areas to clear, the BC26 model is a significant upgrade that might better be able to handle larger areas, thicker brush, or denser overgrowth.
Billy Goat BC26 Series Outback Brushcutter
The BC26 Outback series brushcutter is a significant upgrade from the 24-inch model mentioned earlier, with an additional two inches in clearing width that dramatically improves its productivity in larger jobs. The BC26 can clear a significantly larger square footage per hour than its smaller counterpart, and powers through even thicker brush with its 309-pound weight and much more efficient engines.
The BC26 can be purchased with either a Honda or Briggs and Stratton engine, much like its BC24 counterpart. In this case, however, the engines are significantly more powerful. The Briggs and Stratton engine is the lower-end engine for the BC26, as it is for the BC24. It features up to 344cc of displacement and a highly efficient design that reduces consumption of fuel and allows for longer periods of work without pausing for refueling or periodic maintenance. The BC26 can also be paired with an upgraded Honda engine, running at 388cc, which blends efficiency with even greater horsepower for more efficient clearing of land covered in particularly thick brush.
Billy Goat BC26HHEU Series Outback Brushcutter for International Users
Billy Goat has long sold both domestic and international versions of its equipment, and the company's Outback series of brushcutters is no exception to this tradition. For European buyers, the company offers its innovative BC26HHEU brushcutter. This model primarily takes its cues from the BC26 model for American buyers, and shares many of the same features. Notably, however, the BC26HHEU brushcutter does not feature a choice between two different engines. Rather than afford a choice between Briggs and Stratton and an engine made by Honda, this model comes only with a 13-horsepower, heavy-duty Honda engine designed to provide efficient clearing on par with the BC26's productivity level.
The BC26HHEU brushcutter comes in at 341 pounds and can clear up to 26 inches of land at the same time. For those who prefer their equipment specifications in metric, that means this model can handle 66cm of clearing at any given time and weighs just about 154.7 kilograms. The brushcutter's height can be adjusted based on the thickness and nature of the brush being cleared, cutting both exceedingly close to the ground or several inches off the surface for larger and thicker brush. Both settings can be adjusted on the fly so that the brushcutter doesn't jam up or suffer from damage along the way.
Get New Brushcutters and Great OEM Parts at BillyGoatParts.com
If the time has come to expand outdoor spaces and get rid of intrusive brush, then Billy Goat likely has the answer for homeowners, commercial buyers, and even those abroad.  BillyGoatParts.com has a wide range of OEM replacement parts that easily satisfy maintenance and repair needs throughout the year.