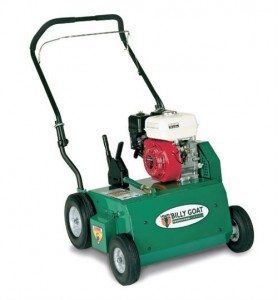 After a long winter when snow has caused heavy compression of soil and turf alike, many homeowners and commercial landscaping companies are charged with undoing what is known as "thatching." Thatch creates a web of grass and weeds that covers the soil, prevents new grass from growing, and even contributes to brown patches scattered throughout the lawn. The best way to undo winter's compression outdoors is to use a tool like one of Billy Goat's power rakes. These pieces of power equipment are designed to use their rake-like attachment to break through thatch, undoing seasonal damage and restoring a healthy, nutrient-rich environment for prime spring and summer growth. Two great models are available from Billy Goat to get this job done in record time.
Two Distinct Models, But Lots of Great Similarities for Consumers
Billy Goat sells both an international model of its power rake and a more conventional model for today's homeowners and commercial landscaping professionals. The entry-level model is its non-international option, also referred to as the PR550 power rake. The international model, otherwise known as the CR550HC, shares a number of key features with this smaller alternative.
Both power rakes feature forward-spinning tines, allowing the power rake to be essentially self-propelled as it solves the issues associated with snowpack and compaction throughout the lawn. Both models come with foldable handles that allow the equipment to be effortlessly stored in space-challenged tool sheds and garages, and they come with heavy-duty wheels that won't succumb to the pressure of particularly dense thatch around the home. This allows both pieces of equipment to power through some of the most challenging terrain possible, all without slipping wheels or significant engine difficulties. Other key features, and a few key differences, help each power rake handle different sizes of outdoor areas and more.
Key Differences of Billy Goat's Two Power Rake Models
One of the biggest differences between these two power rake models is their engine type. The CR550HC international model comes with a 5-horsepower Honda engine that's been super-charged so that it can handle tougher terrain and thicker thatch. This bigger engine also allows the international model to work a bit better with accessories that extend the uses of the rake action. By contrast, the smaller PR550 model for domestic customers comes with a smaller, 205 cc Vanguard engine. This can optionally be swapped out for a compact Honda engine in the PR550H model. The Honda engine runs at 162cc of displacement.
The international version of the power rake comes with an overall 20-inch width, of which all 20 inches are equipped with rake blades that can cut through thatch and restore order to the lawn. The PR550 domestic model is actually wider, at 26.5 inches, but comes with the same 20-inch rake width when clearing areas around the home. The productivity rates for these two models are slightly different, but in a mostly negligible way. The PR550 clears up to 13,000 square feet per hour, while the CR550HC model clears slightly more at 13,200 square feet per hour.
The international model is decidedly the lighter of the two, largely because it just isn't as wide as the PR550 sold to today's homeowners in the United States. The CR550HC power rake from Billy Goat weighs in at 129 pounds. The PR550 checks in at 160 pounds, and that extra heft is generally attributed to its six additional inches in overall width. Both models come with the same folding handles and the ability to be stored in a shed or garage via both on-the-ground storage and via hanging on wall-mounted brackets or other fixtures due to their lighter weight overall.
Accessories: Interesting Ways to Extend the Power Rake's Utility
There are several available accessories for the Billy Goat power rake lineup, each of them designed to increase the number of uses associated with the equipment after purchase. Perhaps the most popular of these accessories is the verti-slicer attachment, which can thin longer grasses, promote improved drainage, and prevent damaging overseeing at the start of the spring season. Other key attachments for use with the Billy Goat power rake include a spring-loaded tine wheel, which gives the power rake the ability to avoid obstructions in the lawn by slightly raising the rake when such an obstruction is encountered; an overseeder conversion kit also allows the power rake to transform into a compact overseeder when needed.
BillyGoatParts.com Has New Power Rakes and OEM Parts Available
Billy Goat's power rakes are a great way to commit to regular lawn maintenance, removing thatch and allowing the soil to develop a far more favorable nutrient profile that builds a better lawn throughout the summer. For new power rakes or the OEM replacement parts that make power rake maintenance a bit easier and more worry-free, consumers can find everything they need online at BillyGoatParts.com.