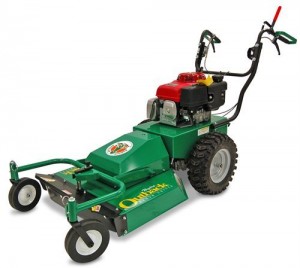 While regular lawn mowers can handle conventional turf with ease, they're just not cut out to handle tall and dense weeds that can grow several feet in height around the home. When the time comes to cut down knee-high weeds to create larger and more expansive outdoor recreation areas, Billy Goat is prepared to make that task just a but easier. In place of a traditional mower, the company's high weed mower uses unique blades and an innovative design to effectively cut down taller grass without choking, clogging, or suffering form serious engine problems. Those who are considering this essential piece of equipment should consider its combination of impressive features and excellent hardware specifications in advance of their equipment purchase.
The Features: How the Billy Goat High Weed Mower Gets the Job Done
High weed mowers tend to deal with more challenging terrain and, perhaps more obviously, more challenging grasses. This means that they must be equipped with better engines, different wheels, and new materials that help operators get the job done with minimal fatigue. For these reasons, the Billy Goat high weed mower comes with a few unique features that makes chopping down high weeds significantly easier:
– Larger Rear Wheels
One of the best ways to give any mower a bit of added durability and flexibility on tough terrain is to increase the size of its rear wheels. The high weed mower from Billy Goat delivers in this area in a big way. Instead of the smaller rear wheels used by traditional push mowers, this high-weed model comes with 16-inch rear wheels that adeptly handle the hidden dips and ditches that can lie beneath longer weeds that often obscure the lay of the land.
– Large, High Torque Blade
Another key requirement of this type of mower is a blade that can outlast the weeds that it's charged with cutting down. The Billy Goat model comes with a 24-inch blade that's specifically designed to be high-torque, giving it the power to withstand hard-to-cut weeds and particularly thick overgrowth around the home. The blade, combined with cutting deck adjustment, can produce cutting heights of between 2 and 4 inches according to operator needs.
– Tuff Torq Transmission
Reducing vibrations transmitted from engine to operator is key, especially during a task as long and as intense as cutting down particularly high weeds. The high weed mower comes with a Tuff Torq transmission that is both exceedingly smooth and quite versatile, with up to three forward speeds that can effortlessly accommodate weed height, thickness, density, and other top concerns in overgrown areas.
– Fast Cutting Speed
No one wants to be cutting down weeds longer than is absolutely necessary, and the Billy Goat model can make sure that any such task is minimal in length. The high weed mower can clear up to 3/4 acre in just one hour. For all but the most expansive outdoor areas full of weed overgrowth, this means a short mowing period and highly productive, effective work for both homeowners and commercial operators.
Specs: Horsepower that Tackles Weeds No Matter How Tall They Are
For maximum dependability and horsepower, the Billy Goat high weed mower comes with a commercial-grade Honda engine that produces up to 187cc during regular operation. The engine features a starter grip for pull-start ignition, and is key to the high productivity levels offered by this model. The engine drives a 24-inch high torque blade that can clear up to 32,735 square feet per hour under normal conditions. This blade does mean that the mower clears 24-inch paths, making it among the widest currently on the market for the consumer market.
All told, the high weed mower measures 32 inches across and is 62 inches long. Its cutting abilities allow it to trim weeds down to just two inches in height, though deck adjustment allows that height to be increased up to 4 inches depending on the operator's preferences. Adjustments to the cutting height are made in half-inch increments, and can be made on the fly to accommodate changing needs or uneven terrain as necessary. This makes the Billy Goat model among the most versatile pieces of high weed mowing equipment on the market.
BillyGoatParts.com Has New Weed Mowers and Plenty of OEM Parts
One of the best ways to create better, more aesthetically pleasing outdoor spaces is to tackle thick and even knee-high weeds. The Billy Goat high weed mower is the best way to get this done, with sharp blades and a powerful engine that easily plows through those weeds even if they're several feet tall. BillyGoatParts.com has new high weed mowers for today's homeowners and professionals, and the website also features an online parts lookup tool that makes it easy to filter OEM replacement parts by model number, part number, and engine manufacturer, for maintenance and repair needs.