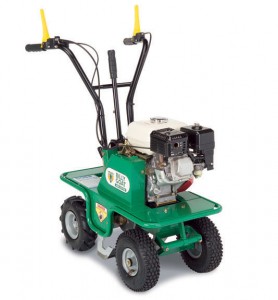 Despite the relatively simple task that they perform, sod cutters have developed a reputation over the years for being unexpectedly heavy and unwieldy. Many companies market these products with very heavy weights that can make them particularly hard to use for some homeowners. With its SC121H sod cutter, Billy Goat has focused on creating a piece of equipment that's just as functional as those heavier models, but with a far lighter weight and a more compact footprint. The overall result of this focus during the development phase is a product that is far more ergonomic, easier to use, and less fatiguing even during longer periods of operation.
The Key Features of Billy Goat's SC121H Sod Cutter
The first thing worth noting about this particular sod cutter is the light weight that makes it far easier to use. At 161 pounds, Billy Goat proudly flaunts its SC121H as half the weight of competing models from other manufactures. This lighter weight might be a selling point on its own, but several other added features make the equipment even more intuitive to use on a regular basis. Chief among these is the powerful rear wheel drive, which gives operators more control over the equipment's direction during regular use.
Another key feature worth noting is the relatively wide width of this equipment, despite its smaller footprint and dramatically lighter weight. The SC121H can cut swaths of sod up to 12 inches in width, and has the ability to extend downward into the ground up to 1.38 inches at a time. If operators need to adjust the width or depth of the cut, this can be done at any time by using Billy Goat's intuitive one-step cut adjustment process with the sod cotters on-board lever. This on-the-fly adjustment capability is far superior to what competing manufacturers currently offer homeowners and commercial customers.
In the interest of safety, the ergonomic and easy-to-use control levers paired with the SC121H are backed by a four-point stability system. This system was designed to make sure the sod cutter would never accidentally fall over or succumb to subtle fluctuations in ground elevation or terrain. It does its job effectively, creating an experience that is far less nerve-wracking than would be possible with competing models.
Spec Sheet: What's Under the Hood
Though this sod cutter is uncharacteristically light and compact, Billy Goat has not used its size to excuse poor power under the hood. It comes with a 118cc Honda OHV engine, which is easily one of the best on the market for a sod cutter of this size and heft. This powerful engine is paired with a smooth transmission, allowing for a total of two forward speeds during regular operation. Those speeds can be adjusted using the control levers that dominate the equipment's overall height.
As mentioned earlier, cutting width extends up to 12 inches based on operator preferences, with a 1.38-inch depth that exceeds what is available from most competitors. The equipment's compact footprint comes in at 30.75 inches long and 16.5 inches wide. Its height measures 30.7 inches with the control levers included, making it easy to store in most garages or smaller tool sheds.
Overall, most buyers will find that the Billy Goat SC121H sod cutter is easily more compact than competing models, but with an engine designed for heavier sod cutters on the market. That all adds up to quicker work, less effort, and reduced levels of operator fatigue, when compared to even the smallest models sold by other power equipment companies.
Available Accessories for the SC121H
Though there are no designated accessories currently available for Billy Goat's SC121H sod cutter, the company does carry an extensive lineup of equipment covers, official lubricants and OEM parts. Contact www.billygoatparts.com,  to purchase the parts you need to keep your sod cutter running in peak condition year after year.
For those equipment owners considering their accessory needs after purchase, perhaps the single most important accessory to consider is an equipment cover that will protect the sod cutter from the elements while it sits in storage during the cooler months of the year. Offered by Billy Goat in a range of sizes, these covers are a great way to drive up peace of mind while the equipment goes unused.
Choose BillyGoatParts.com for New Sod Cutters and OEM Parts
When the time has come to replace a clunky, heavier sod cutter with Billy Goat's light and compact alternative, consumers can trust BillyGoatParts.com to have the equipment they need and the parts they'll trust to keep it running for many years to come. The website features an easy parts lookup tool, which requires only the part number, model number, or equipment category, when listing all available parts, accessories, and fluids, needed to keep the equipment in top condition.