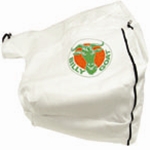 All homeowners know that they need to take care of their Billy Goat vacuums to guard against things like poor lubrication, engine damage, excessive vibration, and even damaged equipment that can lead to a greater risk of operator injury, many of those same homeowners simply aren't familiar with the maintenance requirements of the typical Billy Goat vacuum bag. This lack of awareness regarding vacuum bag maintenance can actually cause bags to suffer from a significantly shortened lifespan, held back by blocked pores in the bag fabric and exposed to a greater chance of tearing or suffering some other kind of serious damage.
For this reason, those homeowners or business owners who already own a Billy Goat vacuum should familiarize themselves with preventative care and routine maintenance that will keep the bag in great condition for a much longer period of time.
The Key to Durability is Breaking in the Vacuum Bag
Whether the vacuum bag is new or simply newly washed, it needs to be broken in before it's used for routine vacuum work around the home. This is actually to safeguard the bag against premature blockage of its "pores," which can cause all kinds of problems during use. To break the bag in, simply attach it to the vacuum and then place the equipment on a flat, level surface where it won't come into contact with large debris and other items. A good place to do this might be an open driveway or another paved, outside area free of debris.
Once the equipment is on a flat surface, go ahead and turn it on and run it at about half throttle. Once the equipment is on and the bag is being broken in, simply allow the vacuum to keep running for just about 30 minutes. This will give the equipment sufficient time to condition the new or washed bag, protecting it from blockage and other hazards in routine use.
When the half hour has elapsed, turn the equipment off and allow it to cool down a bit. If there is no need to vacuum right away, place it back in storage. If work does need to be done, refuel the vacuum and take it for a spin with the new or washed bag in place.
Make Sure to Prevent Overloading of the Bag
Most people wrongly assume that they only have to empty their equipment's vacuum bag when it's almost completely full. This is actually a really big mistake, and it has a direct impact on how long the bag lasts and how well the vacuum equipment performs during everyday use. Because of the nature of outdoor vacuum equipment, it's absolutely essential that air be able to pass through the small pores integrated into the fabric.
Because it's very difficult, and sometimes impossible, for air to pass through the pores if the bag is nearly full, it's essential to empty it long before that threshold is reached. As a general rule, homeowners looking to maintain peak performance and durability should empty their vacuum bag once it's about half full. At the very most, the bag should only be allowed to fill about two-thirds of the way before it's removed and emptied.
Maintaining a bag that never reaches its limit will help the vacuum work more efficiently, picking up more debris and ensuring that neither the equipment itself nor the attached vacuum bag require regular replacement or repair. Check the bag before each use of the equipment and, as an extra precaution, empty it after the job is finished.
Regular Maintenance Will Keep Bags in Great Condition
The key to maintaining a vacuum bag is participating in regular maintenance after each use of the vacuum equipment itself. It all starts with emptying the bag after each use, which guards against poor vacuum performance and ensures that the bag's pores are not clogged in any way.
In addition to routinely emptying the bag, equipment owners should also be sure to turn the bag inside out and make sure that all debris has been removed. If dirt clings to the sides of the bag and refuses to budge, a garden hose can be used to spray down the inside of the bag and clean it out more effectively.
Before using the bag again, ensure that it has been fully dried and that it's been broken in as recommended above. With these maintenance procedures followed consistently, both the bag itself and the vacuum equipment will continue to perform at a high level for years to come.
Where to Buy Billy Goat Vacuum Bags
When the time has come to buy replacement vacuum bags for Billy Goat equipment, BillyGoatParts.com is a great option for today's homeowners. The site's parts lookup tool makes it easy to find the right bag for each vacuum model, and consumers will be treated to only high quality OEM parts no matter what they're buying. That means bags will be higher quality, a better fit with any vacuum equipment, and more durable during even the toughest conditions.