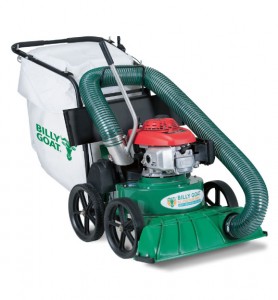 If a great deal of natural debris or litter needs to be removed from a residential or commercial area, most people have two distinct choices: They can use a blower to simply move the debris, or they can employ the use of a vacuum to remove the debris and litter from the picture entirely. The more convenient and lasting option is almost always the vacuum, and that's a need that Billy Goat is looking to satisfy. The company has designed its KV Multi-Surface vacuum for light commercial work as well as residential maintenance. The vacuum is designed specifically to handle both litter and natural debris, making it versatile enough to handle all kinds of headaches and aesthetic intrusions. With a large design that shuns zippers and advanced controls, almost anyone can quickly and easily learn how to use the KV vacuum for their own needs.
Vacuum Features: What Sets the Billy Goat KV Multi-Surface Apart?
Though it's designed as a cleanup procedure, vacuuming outdoors can be quite messy for the operator if the vacuum they're using isn't properly designed. That's not a concern with the Billy Goat KV multi-surface model, which comes with an integrated dust skirt that keeps dirt and debris close to the ground. As a result, operators won't end their vacuuming task covered in residual dirt and grime. This thoughtful addition to the vacuum is paired with a commitment to minimal operator fatigue, thanks to insulating materials that keep engine vibrations away from the hands during extended periods of outdoor cleaning and clearing. The vacuum's handle, as well as several parts near the engine itself, simply reduce the transmission of these small movements and spare the operator in the process.
The vacuum's debris bag refreshingly comes without the use of small and frustrating zippers. In lieu of these zippers, small connectors and attachments are used to keep the zipperless collection bag in place. This allows for easier removal and reattachment of the bag, which is especially useful during larger jobs where the bag may have to be emptied mid-task. To help reduce the frequency of bag removal, the vacuum does come with a helpful impeller that breaks up trash and debris so that those items fit more securely in the bag and take up less space overall. A choice between Honda or Briggs and Stratton engines further allows customers to choose the level of power and efficiency appropriate for their intended KV vacuum use.
KV Vacuum Specs: A Glimpse Under the Hood of this Powerful Model
Those who have decided to use the KV multi-surface vacuum for their residential or commercial needs can choose from one of two available engines. The first of these is the 190cc Briggs and Stratton engine, available in the KV600 model. For those who need a bit more horsepower, an optional Honda engine can be added to the mix, as part of Billy Goat's KV650H model. Both engines are paired with a spacious, 40-gallon debris bag that makes it easy to clean large outdoor areas with minimal interruptions for emptying the bag into an approved disposal container. The mesh bag, with included dust skirt, keeps dirt and grime away from operators and holds compacted debris with ease.
The full KV multi-surface vacuum is actually quite lightweight when it's not carrying trash and debris in the included bag. The Briggs and Stratton model weighs just 112 pounds, while the upgraded Honda engine increases the weight to between 129 and 132 pounds based on equipment features. The KV's 62-inch length and 26.75-inch width makes the vacuum easy to store, especially with an empty debris bag.
Several Useful Vacuum Accessories Are Available for the KV Multi-Surface
Perhaps the most useful accessory available for Billy Goat's KV vacuum is an optional felt bag. The felt bag offers fewer "pores," and is therefore quite a bit better at containing dust than the mesh bag included as standard. The KV vacuum can also be paired with optional caster kits, nozzles, and shredders. The equipment also has its own, optional cover that protects the surface from rust and damage during off-season storage. All told, these accessories are both protective and extensible, making the vacuum even more useful throughout the year for both residential and commercial cleaning.
Find the KV Multi-Surface Vacuum and OEM Parts at BillyGoatParts.com
The KV multi-surface vacuum is a great choice for residential customers or those who need the equipment for commercial cleanup. If the time has come to choose a new Billy Goat vacuum model, BillyGoatParts.com can help with its full range of new Billy Goat equipment options. The site is also a great resource for OEM replacement parts, featuring a full selection of official Billy Goat parts that will stand the test of time and offer both superior value and compatibility. These parts are essential for seasonal maintenance and repairs.