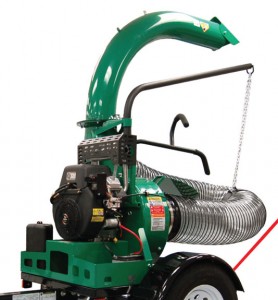 Debris loaders are simply the best way to handle storm debris, construction debris, and any other type of obstruction that needs to be cut down to size, chopped into fine pieces, and easily placed in a storage container for recycling or disposal. At the high-end, Billy Goat's DL 25/35 series of debris loaders is likely the best fit for professional contractors, commercial landscapers, and municipal grounds departments, since it offers the most powerful engine, the largest overall size, and the capacity to handle a significant amount of larger debris in a short amount of time. This overall efficiency is delivered across several unique models, each of which will appeal to a slightly different type of buyer or organization.
Professional-Grade Operation: Key DL 25/35 Features and Benefits
The engine technology paired with the DL 25 and 35 debris loaders is no joke: Billy Goat has chosen v-twin OHV architecture to ensure that even the most rigorous cleanup tasks are no match for these high-end models. The upgrade to v-twin designs is the single largest upgrade found among any of Billy Goat's debris loaders, and is even more significant than the jump from residential to commercial models in this lineup. While the engine is impressive, it should be noted that the debris loaders overall size and capacity makes full use of this engine and is what sells these models as a great fit for professionals.
The DL 25 and 25 debris loaders feature a 12″ x 10′ debris hose that is the largest on currently offered on any Billy Goat debris loader. Thanks to a state-of-the-art impeller system, the debris handled by this hose will still be subject to a 12:1 processing ratio, turning even the largest item into mulch-sized fragments that can be disposed of or recycled as needed. To add extra stability and resilience to the mix, these debris loaders come with 14-inch wheels that are also the largest of any debris loader currently sold by Billy Goat to its commercial or residential buyers.
For ease of use, the exhaust hose featured with these models can be adjusted by hand, on the fly, as required. This allows the debris loader to deflect its discharge and exhaust in alternating directions based on wind and weather conditions, truck position, and other considerations that are common to commercial landscaping sites. The equipment's heavy-gauge steel and durable, polyurethane hose, both allow for added durability when handling large debris items over an extended period of time.
Impressive Debris Loader Specs for the DL 25/35 Lineup
Two engines are available when choosing between the DL 25 and 35 debris loaders for contractors and municipal organizations. The first of these, and the smallest overall, is the 25-horsepower Subaru engine. This engine is available on the DL 25 model. The upgraded DL 35 debris loader takes its name from the 25-horsepower engine under the hood, though this upgraded engine is supplied by Vanguard. Both of these engines are twin-cylinder designs with OHV architecture, giving them added power and efficiency even when they're used for very long periods of time. This is a substantial upgrade when compared to other Billy Goat debris loaders available.
The dual-blade cutting system found with both the DL 25 and DL 35 debris loaders comes with six blades, but a massive 18 different cutting points. This large number of cutting points is the key to the equipment's impressive 12:1 debris ratio, which itself is higher than other commercial debris loaders in the Billy Goat lineup. A large, 8-inch discharge is included, which is absolutely essential for a piece of equipment that can handle this size and volume of debris.
The DL 25 and DL 35 models are designed for professionals, and they're sized that way as well. The equipment weighs a whopping 393 pounds, which is far heavier than the other commercial debris loaders that Billy Goat offers. The equipment is a very tall 74 inches, and measures 58 inches long by 32 inches wide.
Be Sure to Check Out Billy Goat's Array of OEM Accessories
The DL 25 / 35 debris loaders can be extended with a Billy Goat CustomFit trailer, allowing the equipment to be attached to virtually any truck currently on the market. Other accessories include extra hoses, discharge extenders, and CustomFit accessories that can be used with the optional trailer to create a better fit and a more secure attachment to larger trucks.
BillyGoatPats.com is the Key to Finding OEM Replacement Parts
When the time has come to secure a few OEM replacement parts for maintenance or service, BillyGoatParts.com is here to help. Thanks to an online parts search tool, equipment owners can narrow down available parts according to model, engine, or part number, and find something that fits perfectly with any DL 25 or DL 35 debris loader. This makes maintenance even easier to do throughout the year.