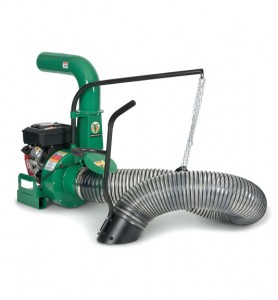 A good debris loader can make a real difference when cleaning up after a summer storm, clearing a construction area, or removing old trees from around a residential or commercial facility. Billy Goat's lineup of debris loaders includes both residential and commercial options, with the DL 14/18 models falling decidedly into the commercial category. These midsize debris loaders are designed to withstand a heavy work load on a regular basis, without giving into excessive wear and tear that is often present in commercial jobs. Their impressive and powerful engines cut through even bigger debris than residential debris loaders do, while the opportunity for intricate adjustment allows the DL 14/18 models to fit with virtually any truck currently in use.
The Biggest Features and Benefits of the DL 14/18 Models
One of the most impressive selling points of the DL 14/18 debris loader is its ability to be customized to fit any truck currently on the market. Billy Goat calls this its CustomFit adjustment system, and it allows everything from the debris loader's height to its attachments to be more easily fitted into commercial vehicles or smaller trucks. CustomFit is only the beginning of this model's impressive feature list, however. Alongside CustomFit, the DL 14/18 series has multiple types of mounting hardware and configurations that allow even greater flexibility to properly break down, store, and transport processed debris as needed.
The 12=gauge steel housing offered by this debris loader is among the most dependable and resilient on the market, and it's paired with a fully replaceable 10-guage steel liner that will further prevent damage while processing debris of any kind. Dual shredding technology produces finer debris after it winds its way through the debris loader, helping commercial professionals store more debris in a smaller space. This can dramatically improve productivity on the worksite, and lead to fewer trips to a disposal facility during longer work.
Unlike many competing debris loaders, the Billy Goat DL 14/18 models come with an optional electric starter built-in. The electric starter eliminates the hassle of a ripcord, and makes sure that the debris loader can start with the press of a single button before every task. That means commercial users can spend more energy on the job and less energy on starting the equipment necessary to do the work.
Billy Goat DL 14/18 Debris Loaders: A Look at the Specs
The company's entry-level debris loader in this series is model DL1401SE, which comes with a 14-horsepower Subaru small engine. Upgraded models, including the DL1801V and DL1801VE, come with an upgraded, 18-horsepower engine provided by Vanguard in lieu of the Subaru engine. Both of these engines are supremely powerful and are easily able to handle most larger debris outdoors. It should be noted that the DL1801V model is the only debris loader in this series to come with the pull-start option, while the other two come with the company's built-in electric starter.
The included hose offers a 10′ x 10′ design, which is larger than Billy Goat's residential models and certainly a must-have piece of equipment for a commercial debris loader. All three models feature four impeller blades that handle debris using their eight separate cutting points. A 7-inch discharge is used to put debris in a truck or container for transportation and disposal. The equipment weighs in at between 244 and 290 pounds, depending on the included engine's size and the presence of an electric starter under the hood. The DL 14/18 debris loaders are 31 inches long, 27 inches wide, and 48 inches in overall height.
Debris Loader Accessories: Available Options for the DL 14/18
The CustomFit system represents the bulk of accessories made for the DL 14/18 debris loader lineup, with customers able to choose from extension kits, custom hitches for various truck models, and additional hose kits for mounting and extended use alongside some larger trucks. Billy Goat's commitment to accessories also extends to its replacement hoses, some of which offer a longer reach or a wider diameter to make outdoor cleanup ever easier. These accessories all come directly from Billy Goat's factories, and therefore offer a universal commitment to quality, durability, and compatibility with every model in the DL 14/18 lineup.
Search for Billy Goat Debris Loaders and Parts at BillyGoatParts.com
Whether it's a new debris loader or the parts necessary to keep a DL 14/18 loader in great shape for many years after purchase, the BillyGoatParts.com website can help. There, customers will find a full range of OEM replacement parts to help take care of repairs or regular maintenance concerns, while those new to debris loaders will find a wide array of Billy Goat models ready for purchase. This comprehensive approach to Billy Goat's debris loaders makes it easy to start cleaning up outdoor spaces with a powerful, dependable piece of midsize commercial equipment.