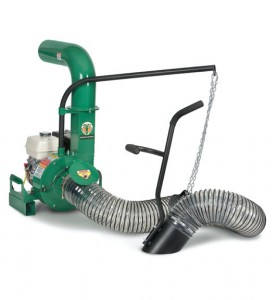 Commercial construction and landscaping customers sometimes get charged with cleaning up a significant amount of debris, whether it's due to outdoor renovation, typical construction work, or even a severe summer storm that causes downed trees and other damage to areas outside homes and businesses. When that cleanup work is required, there's often no way to get the job done without a capable and adaptable debris loader. The options available to construction and commercial professionals are numerous, but perhaps one of the most compelling is the DL12/13 model from Billy Goat.
This debris loader is designed to be as versatile as possible, so that it can easily be used with any truck or other vehicle required by operators. Its powerful features make it a natural fit for even the biggest cleanup tasks, and the availability of accessories and OEM parts make this debris loader a long-term option that will stand up to rigorous use throughout the year.
Debris Loader Features: How the DL12/13 Powers Through Cleanup
One of the biggest problems with many debris loaders is that they sometimes don't fit well with certain trucks or other vehicles. As a result, they don't perform as well as their manufacturers promise and they sacrifice productivity in the process. Billy Goat saw this problem and came up with its own, customized solution: CustomFit. The CustomFit feature is designed to allow for easier and more wide-ranging customization of the DL12/13 debris loader. Adjustments allow the equipment to pair more easily with trucks and other commercial vehicles, making it as useful as possible for the largest number of potential operators.
In addition to CustomFit adaptability, the DL12/13 debris loader comes with dual impeller blades branded under Billy Goat's Piranha name. These blades, as their name implies, are designed to make quick work of breaking down debris into very small pieces. As a result, the debris loader can handle, process, and help store, a significant amount of organic debris produced by storms or outdoor renovation and construction work. The 10-guage steel housing that this model features, which is among the strongest of any debris loader, is designed specifically to resist damage done by collected and chopped-up debris. This makes it less likely that significant repair work would have to be done after a typical cleanup task.
In-Depth: The DL12/13's Key Specifications for Commercial Work
Two engines are available for this debris loader. The entry-level engine is a 12-horsepower LCT engine, while an upgraded 13-horsepower Honda engine can be chosen in its place. Both are exceedingly powerful and tuned perfect for the task at hand. Four impeller blades, with eight cutting points, handle the processing of debris, while a 7-inch discharge assists with transit and storage.
The equipment is compact for the task it performs, but still quite a presence in the commercial equipment lineup: It weighs in at a not-insignificant 235 pounds when paired with the entry-level engine, or 238 pounds with the upgraded Honda engine. The DL12/13 is 31 inches long and 27 inches wide, with a 48-inch height. This makes it the perfect size for storage in a trailer or a commercial storage facility between debris clearing tasks.
Accessories Enrich and Extend the DL12/13 Experience
Several accessories make cleanup easier by improving the included DL12/13 hose. These include a 360-degree rotational kit for the hose housing, an 8-inch coupler, and modified exhaust deflectors. The primary source of accessories for this model, however, comes from the CustomFit accessory lineup. As mentioned earlier, this debris loader is designed to be adapted to virtually any commercial vehicle or typical truck. To adjust to varying truck heights and widths, bed sizes, storage container sizes, and other considerations, operators will find CustomFit hitches, extension kits, hanger kits, and much more.
The number of CustomFit accessories available is actually quite large, but it's highly unlikely that the typical commercial operator would need all of them to get the job done. In fact, the proper way to utilize CustomFit is to find the accessories that allow for the right equipment modifications after purchase. This adds only a nominal cost to the debris loader, but greatly enhances its utility when compared to the competing options available.
The D12/13 and OEM Replacement Parts are Easy to Find at BillyGoatParts.com
The DL12/13 debris loader is a powerful model that's designed for hard work and long-term durability. Even so, equipment like this almost always requires sticking to a maintenance schedule and adhering to routine parts replacements so that everything runs efficiently. With parts are needed, BillyGoatParts.com allows operators to sort by model number, engine manufacturer, and part number, so that compatibility with the DL12/13 is assured. Furthermore, the site features a full range of Billy Goat debris loaders and other power equipment options for commercial operators and residential customers.