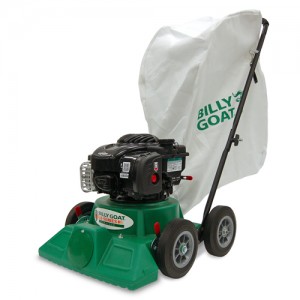 Even those homeowners who take pride in their ability to landscape outdoor areas tend to shy away from getting cleanup work done, but the Billy Goat LB352 vacuum makes that work a great deal easier. Designed for international customers, the vacuum comes with several features that make it easier to clean up fall foliage, grass clippings, and even the dirt and debris that gets unleashed by a particularly strong summer storm.
The vacuum's light weight, compact design, and abundance of features and accessories, allows it to offer a superior value to consumers while making it easier to create clean, attractive outdoor spaces that stand the test of time in every season. Before opting for this LB352 international model, it's a good idea to take a look at the vacuum's biggest features, the specs it offers when getting the job done, and the accessories that make it a great choice for the long-term.
Features and Highlights of the LB352 Vacuum from Billy Goat
The LB352 is designed for international customers who require slightly different engines and power levels to satisfy certain regulations and other considerations. To that end, this piece of equipment comes with a slightly more compact design and an engine that conforms to essential international power and safety guidelines. Other features of this model are primarily concerned with how the equipment actually operates. First and foremost, this model comes with a wide nozzle that allows for quicker work in larger spaces. Its wider overall design in the front, combined with intake capacity for clippings, foliage, and small debris, ensures that operators will be able to work without interruptions as they clean up nature's messes.
The LB352 also comes with a felt bag, which is actually an upgrade from mesh models paired with some other vacuums on the market. The felt back has a tighter woven design, which means it allows less dirt to escape back into the air. As a result, the operator remains cleaner during operation and the outdoor area being cleaned can resist getting covered in the same dust that was only recently vacuumed away. The vacuum offers excellent adaptability based on the slope of the ground being treated and the type of terrain being vacuumed, thanks to adjustable wheels that can control intake height, durability, and adaptability to inclines.
The Specs: Under the Hood of Billy Goat's LB252 Model Vacuum
Vacuuming outdoors is actually hard work, and requires quite a bit more power and capacity than a traditional indoor vacuum would demand to get the job done. Because of this, Billy Goat's LB352 model comes with a Briggs and Stratton engine designed to coincide with international safety and power standards. The 158cc engine can capably handle smaller debris and fine clippings. The engine's power level doesn't make it exceedingly loud, which will actually help operators avoid headaches and fatigue as they get the job finished.
The felt bag paired with this vacuum comes with a large, 105-liter capacity, which will likely eliminate mid-task emptying of the container. This makes it easier to finish more quickly, and can even save fuel while boosting productivity. The vacuum weighs just under 26kg, measures 119 centimeters in length, and comes in at 54.6cm in width. This is a perfectly compact size for storage in garages and smaller tool sheds. One thing worth noting about this model is that it features no self-propulsion system or hydrostatic drive system. As a result, operators dealing with more challenging terrain may experience added levels of fatigue. This is generally not a very big concern for this model's target group of consumers, however, since it's designed for more conventional work immediately around the home.
Get Even More Value with Available Billy Goat LB352 Vacuum Accessories
Billy Goat equipment comes with extra inherent value for today's operators because the company makes a large number of accessories available for each model. The LB352 vacuum can be paired with additional felt bags or even the company's mesh bags, based entirely on which option operators prefer. If more dust is involved, a felt bag is the best choice. Larger debris, however, might be better suited for a mesh bag. Operators can also choose from Billy Goat's parts, equipment covers, engine oil and other fluids, and numerous other additions to the LB352.
New Vacuums and Replacement Parts are Easy to Find at BillyGoatParts.com
Whether it's a new LB352 vacuum for use around the home, or simply the OEM replacement parts needed to complete a bit of regular maintenance, BillyGoatParts.com can help. Thanks to an online parts lookup tool and an extensive availability of new parts, consumers can filter their options by model number, part number, or engine manufacturer. These filter options make it easy to get the right part for each Billy Goat vacuum model, ensuring proper compatibility and quick replacement.