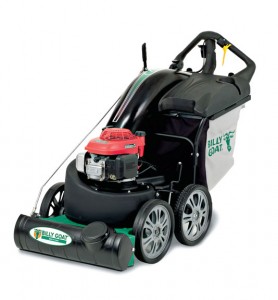 Outdoor vacuums have long had a reputation for being exceedingly loud, very large, and rather clunky. Billy Goat has been working to address this in recent years, and the company's MV multi-surface vacuum is clear evidence that the company is changing the way these crucial pieces of equipment operate and appear. The MV multi-surface offers a sleek design with operator-centric features and excellent capacity for clearing both solid surfaces and the turf. The vacuum's compact size and capable vacuum capacity make it a solid choice for residential owners, but also for commercial customers that need to clean up parks, athletic fields, large lawns, and other areas that suffer from an abundance of litter or natural dirt and debris.
Vacuum Features: How the MV Works Hard and Gets the Job Done
The MV multi-surface vacuum is designed for easy usability, and that starts with the equipment's lower profile and overall light weight. Both features make the equipment easy to balance and even easier to move throughout the lawn. This light weight is further enhanced by the ability to use a self-propelled method of operation that drives the equipment forward without operator invention. As a result, this vacuum is actually quite easy on operators and certainly contributes to reduced fatigue when compared to similar, competing models from other manufacturers. The overall low weight of this model is thanks in large part to its composite housing and the composite-material hood that keeps crucial parts away from operators and bystanders. This lighter, durable material simply makes the vacuum easier to handle.
Unlike most vacuums, the Billy Goat MV does not use a zipper-based bag storage system. Instead, debris is filtered into a zipper-free mesh bag that slides on and off of the equipment using metal rails. This makes bag removal and replacement far easier than other models, which is especially an asset with a mid-task bag removal, must be pursued in order to keep collecting debris. The MV multi-surface model also features two unique types of vacuum intake. The first of these is a ground-facing intake standard on virtually all indoor and outdoor vacuums. The MV also comes with a 29-inch "gobbler door" that can be lifted open. This allows larger litter or natural debris to be taken into the equipment and broken down with the built-in impeller. It's an asset when cleaning public or commercial spaces, where litter can typically be too big for more conventional intake mechanisms.
MV Multi-Surface Specifications Spotlight a Powerful Piece of Equipment
As with many of the residential and commercial vacuums sold by Billy Goat, the MV Multi-Surface model comes with a choice between two engines. The entry-level engine, and the one considered "standard," is the 187cc Honda commercial engine paired with model MV650H. For those who need a bit more horsepower to help them get the job done even quicker, Billy Goat offers an optional MV600SPE. This model comes with a 190cc Briggs and Stratton engine, which is sure to be an even greater help when cleaning up outdoor areas.
The vacuum dispenses all of its collected debris into a mesh bag, though other storage options are available. Without any debris in the storage bag, the equipment weighs in at between 162 and 208 pounds, based largely on the engine type and other optional features. The MV measures just over 65 inches long, 47.5 inches high, and 29 inches wide, making it expansive enough for outdoor cleanup and compact enough for indoor storage.
Make the MV More Useful with Optional, OEM Billy Goat Accessories
Plenty of accessories are available to make the MV vacuum even more useful and convenient. Disposable bag liners make it easier to remove debris mid-task, while an electrostatic dust sock kit keeps dust contained and away from the operator. This ensures even greater comfort and cleanliness during outdoor work, and is a great option for this model. Another key accessory is the additional hose attachment, which can be used to clean hard-to-reach area or take in larger debris found around the home. Sand liners and available casters make the equipment more balanced, safer, and more able to protect its engine, offering enhanced durability over an extended period of time.
Find Billy Goat Vacuums and OEM Replacement Parts at BillyGoatParts.com
The MV multi-surface vacuum is an asset for commercial cleanup or even residential clearing. For those customers who are considering this key piece of equipment for their needs, BillyGoatParts.com offers a great lineup of vacuums and other products. The site also features OEM replacement parts that are a key part of regular maintenance as well as the occasional repair. These parts can be sorted by the model number, the part number required, or the specific type of engine paired with the vacuum at the time of purchase. With easy sorting, it's easy to keep the vacuum in top shape for many years after purchase.