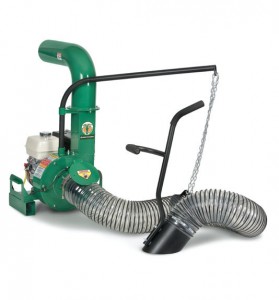 Whether you have a small plot of land or you're a professional landscaper, at some point you'll need to get all the debris from fall leaves and mowing off of the ground and into a truck or trailer for disposal. Fortunately, Billy Goat has you covered with debris loaders in a range of sizes and with a choice of engines from Honda, Subaru and Briggs & Stratton. These loaders use the Piranha impeller which has serrated edges that chop up leaves and grass, compacting materials up to 12:1 so you can carry more material with each load. Every model is built with thick impeller housings and replaceable liners to provide years of reliable performance. Which model is right for you?
DL 12 and 13 Series
These "entry level" truck loaders still deliver the commercial performance you expect from Billy Goat. Debris is moved by a 14.25-inch armor plate impeller surrounded by a 12 gauge steel housing with a 10 gauge replaceable steel liner. The DL 12 and 13 both use Honda engines. The DL1201L has a flow rate of 2,013 CFM, while the DL1301H has a flow rate of 2,100 CFM.
Debris is picked up using an 8 inch x 10 foot clear intake hose that lets you see where blockages are happening so you can clean them out quickly. These loaders use Billy Goat's CustomFit system, letting you set the loader mounting positions to attach it to a tailgate, truck hitch, or skid mount.
DL14 and 18 Series
Want more from your truck loader? The DL14 and 18 series loaders have all the features of the DL 13, but they use a 16-inch impeller driven by either a 14 hp Subaru or 18 hp Briggs & Stratton Vanguard engine. The DL1401SE and DL1801VE come with electric starters.
DL 25 & 35 Series
These truck loaders are big enough to handle municipal and contractor use. The DL 25 is powered by a 25 hp Subaru engine that drives an 18-inch impeller for 4,400 cfm of suction power. The DL 35 uses a 35 hp Vanguard engine and a 20-inch impeller for 5,050 cfm of suction power. The discharge chute on these loaders can move 360 degrees to aim debris exactly where you want them, and the unit can be mounted on a highway class trailer for easy transfer between crews and worksites. These models come with a safety switch to kill the motor if something other than leaves and grass clippings gets into the chute.
The DL2500S and DL3500V use a composite liner and a 10 inch x 12 foot hose, while the DL3500V uses a conventional steel liner and comes with a 10 inch x 14 foot hose.
Where to Get Parts for Your Billy Goat Truck Loader
www.billygoatparts.com is a certified dealer for Billy Goat as well as Honda Small Engines, Briggs & Stratton, and Subaru Industrial Power Products, so we can supply you with parts and accessories for your entire loader. Our site even has factory parts diagrams and descriptions built into it, so you can quickly identify the part you're ordering. We can ship your order to any address in the U.S. and Canada.