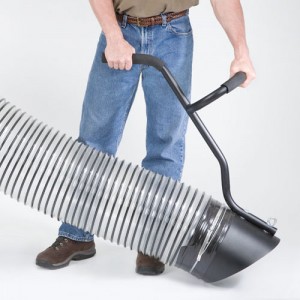 Looking for an entry level truck loader that has the same build quality and performance you expect from a professional model? Billy Goat's DL 12 and DL 13 series debris loaders are sized to be practical for small properties but come with all the features of their high end commercial equipment.
Vacuuming Performance
Debris enters the loader through an 8 inch wide, 10 inch long hose made from a clear urethane, letting you spot blockages so they can be cleared quickly. The hose has a metal sleeve over the opening to resist scrapes and bumps and a long handle with two grip points for comfortable operation. The middle of the hose is held off the ground by a chain attached to a swinging boom.
Suction is provided by a 14.25 inch wide armor-plated impeller with four blades and 8 cutting points. The blades use Billy Goat's Piranha design which uses serrated edges to cut debris as they pass through, reducing materials by an average of 12:1 to increase the amount of material you can haul with each load. It's surrounded by a 10 gauge steel liner that can be replaced when it wears out, while the outer housing is constructed from 12 gauge steel.
Debris exits a fixed 7 inch discharge chute which is aimed directly opposite of the impeller's intake.
Power
The DL 12 and DL 13 series come with the same equipment aside from the motor. The DL1201L uses a 12 hp LCT engine for a flow rate of 2,013 CFM. The DL1301H has a 13hp Honda engine increasing suction slightly to 2,100 CFM. Weight for both models is about the same with the DL1201L tipping the scales at 235 lbs. while the DL1301H comes in at 238 lbs.
Mounting
The DL 12 and DL 13 use Billy Goat's CustomFit mounting system. By itself, the loaders can be skid mounted, while Billy Goat offers accessory kits to mount either model on a tailgate, receiver hitch, or stake body. With the discharge chute installed, these loaders measure 31 x 27 x 48 inches.
Accessories
Along with the CustomFit mount options, Billy Goat offers accessories to extend the reach of these truck loaders.
At the intake end, an 8 inch coupler can be added to combine two pieces of urethane hose to double the total hose length.
The reach of the discharge chute can be extended using a kit that ads 15 5/8 inches to the outlet's height, while a urethane hose kit can be added as well. This extends the reach by 5 feet while letting you drop the hose end into the truck bed or trailer to ensure all the debris ends up inside. If you want more directional control without the hose, there's an adjustable exhaust defector. Want more flexibility? The 360 rotational kit allows the chute to be swiveled by hand to aim debris, although it's not compatible with the metal chute extension.
Where to Get Parts and Accessories for the Billy Goat DL1201L and DL1301H Truck Loaders
www.billygoatparts.com is a certified dealer for Billy Goat Industries and the engines that power them. Our site has built-in factory parts diagrams and descriptions, so you can be sure you're getting the right parts you need to fix and maintain your loader. We can ship parts and accessories to any address in the U.S. and Canada.