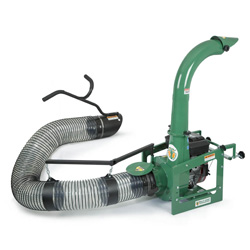 Need a debris loader that goes beyond the abilities of a residential model, but isn't so big that it can only be skid mounted? Billy Goat's DL14 and DL18 Series midsize loaders are built for contractors who want a full strength device that's still flexible enough to work with a variety of mounting locations.
Design
At the heart of these truck loaders is Billy Goat's Piranha Blade impeller. It has four blades with 8 cutting points and a razor sharp edge that chops up incoming debris to a twelfth of its original size so you can carry more with each load.
The impeller is surrounded by a 10 gauge replaceable steel liner which fits inside a 12 gauge steel outer case. Both the DL14 an DL18 series blowers can move up to 3,700 cubic feet of air per minute.
Debris is picked up using a 10 inch wide, 10 foot long intake hose. It's made from clear urethane to make it easy to stop blockages, while a safety kill switch automatically shuts down the engine if the hose becomes separated from the impeller housing.
Mounting
These debris loaders are compatible with Billy Goat's CustomFit system, letting you add mounts to put the loader on a trailer hitch receiver, skid, tailgate, or stake body bed.
Models
Both the 14DL and 18DL series debris loaders use the same basic construction, including the impeller design. Despite the different engines, the exterior dimensions remain the same at 31 x 27 x 48 inches.
The 1401SE is powered by a 14 hp Subaru EX Series engine and comes with an electric starter. Its single cylinder design keeps weight down to just 244 lbs.
The 1800V and 1801V are powered by an 18 hp Briggs & Stratton Vanguard engine. This V-Twin engine brings the total weight of the loader up to 290 lbs, but the added power helps it maintain maximum suction no matter what you're picking up.
Don't want to deal with pull starting the engine on your truck loader? The 1801VE uses the same engine as the 1801V, but it comes with an electric starter. It weighs 295 lbs.
Accessories
Want more reach for your loader? Billy Goat offers several options:
On the intake side, a 10 inch hose coupler lets you link two urethane hoses together, doubling the hose length to get in more areas without repositioning the loader.
The extension kit raises the discharge opening by 15 5/8 inches so it can reach over tall trailers and truck beds.
A 5 foot urethane hose can be added to the end of the discharge chute, adding some reach and making it easier to direct the debris. If you want to skip the hose, the exhaust deflector can help aim the debris into your truck bed or trailer.
Want the loader to work with a variety of loading positions? There's a 360 degree mount that lets you swivel the discharge pipe to the direction you want.
Where to Buy Billy Goat Parts
www.billygoatparts.com is a certified dealer for Billy Goat as well as the Subaru and B&S engines used in these loaders. Our site has built in factory parts diagrams and descriptions, making it easy to find the exact part or accessory you want to order. We can ship your order to any address in the U.S. and Canada.