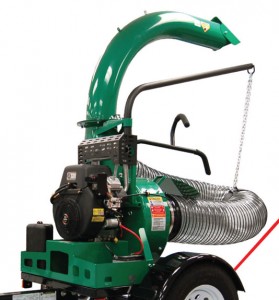 When you depend on your truck loader to pick up debris day after day, you need a Billy Goat. Their DL 25 and DL 35 loaders are built for contractors and municipal users who need maximum power and reliability and need to keep disposal prices in check.
Making Small Loads from Big Jobs
Debris enters the impeller chamber through a clear urethane hose, making it easy to locate and remove blockages. The end of this hose has a metal opening to resist abrasion and a long handle with two angled grips, making it comfortable to use all day. The hose locks onto the opening of the impeller housing with a quick connector making it easy to remove for transport. The loader has a safety interlock, shutting down the engine immediately if the hose is disconnected during operation.
These loaders use Billy Goat's Piranha blade design. Incoming debris passes through a two-stage system that chops up leaves and grass using a small set of blades at the center of the intake before being flung to the edges of the impeller housing. Once inside, a 6 blade impeller with 18 cutting points finishes the job. This system cuts and compacts debris up to 12:1 so you can move more material with every load and save on disposal costs.
The debris exits an 8-inch wide discharge chute that swivels 360 degrees for easy aiming.
What You Get With the DL25
The DL25 is powered by a 25 hp Subaru EH Series engine. These motors are built with maximum durability and are backed by the manufacturer with a 5-year warranty, the longest in the industry. With this engine, the loader can vacuum at a rate of 4,400 cubic feet per minute. Debris is drawn in using a 12 inch by 10 foot hose. Weight for this model is 393 lbs.
What You Get With the DL35
This truck loader provides maximum power with a 35 hp Briggs & Stratton Vanguard V-Twin. This engine provides enough power to move up to 5,050 cubic feet of air and materials per minute. Debris is drawn in using a massive 14 inch by 10 foot hose. Despite the increase in power, it weighs less than the DL25, tipping the scales at only 371 lbs. B&S backs this motor with a three-year warranty.
Accessories
The DL25 and DL35 are designed for skid mounting, but they can also be towed by mounting them to the CustomFit trailer. This trailer has 14-inch wheels, keeping the loader stable when being towed at highway speeds. The trailer kit also includes pre-wired lights, a traffic cone holder, and a backup whip. It meets all DOT highway requirements, making it legal to tow anywhere.
The discharge chute can be extended several ways. There's an extension kit that adds two feet of metal tubing for increased height, a flexible 5-foot extension that can be bent over trailer and bed walls, and a debris deflector to help aim debris toward truck and trailer beds.
Where to Get Parts for Billy Goat's Commercial Grade Truck Loaders
www.billygoatparts.com is your one-stop shop for everything you need for your DL Series loader. We're a certified Billy Goat dealer carrying parts for Billy Goat Industry's products as well as the engines that power them. Our site has factory parts diagrams and descriptions built into the search engine so you can quickly identify the parts and accessories you need, and we can ship your order to any place in the U.S. and Canada.