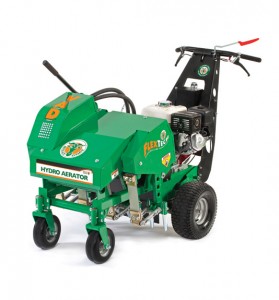 For some people, lawn care is a hobby to go after leisurely. But when lawn care is your business, you want to spend as little time as possible to get the best results. Billy Goat's AE1300H is built for the professional, using clever design features to aerate turf efficiently and effectively, shaving serious time off of each job while maintaining quality.
Get Work Done Quickly
Between the aerator's 30-inch drum and its top speed of 4.3 miles per hour, this model can cover a quarter acre in as little as 15 minutes. That speed is actually attainable outside of ideal conditions because the drum doesn't need to be lifted when making turns, and it can even aerate in reverse. That means no matter how you're moving the aerator, it can do its job.
Get the Surface You Want in One Pass
Billy Goat's patent pending Variable Aeration Density (VAD) system allows the drum to pierce the soil anywhere from two to 10 times as much as a standard drum per pass. This means you can make anywhere from 8 to 48 holes per square foot to meet the drainage and air exposure needs of the turf you're working on. Don't want cores? Billy Goat offers solid steel spikes that can be fitted in place of the standard coring tines.
Need to reach deep into the soil? This model uses Billy Goat's FLEXTECH arms, coring 2.5-3 inches into the dirt. That's twice as deep as most competing models, letting you get maximum soil exposure and even ready the turf for patching and seeding by using this machine at its deepest and highest density settings.
Easy to Use Almost Anywhere
The AE1300H rides on 15-inch pneumatic tires that help absorb bumps as it moves over terrain, keeping operation comfortable while ensuring even hole depth. These wheels are spaced out to keep the unit stable at slopes up to 20 degrees.
Hydraulic controls help isolate vibrations while making this aerator easy to operate. Speed is controlled solely using the throttle, keeping the motor within its powerband and eliminating the need to stop and shift a gearbox every time you need to change hole density. Want to go in reverse? Just pull the left hand lever. When you want to switch between transport and aerating modes, simply move the lever that's just ahead of the handles. Billy Goat also offers a chariot that attaches to the AE1300H to turn this walk-behind into a stand-behind.
Designed for Increased Up Time
This machine may sound complex, but maintenance is easy. There are only 8 tines mounted using a total of four bolts for fast tine replacement, and there aren't covers that need to be removed for access thanks to the design of the FLEXTECH system.
Power is provided by Honda's ubiquitous GX390. The GX series has proven to be an extremely reliable engine, finding its place in everything from generators to water pumps. Its advanced design reduces fuel consumption and noise, while an automatic decompression system and CDI ignition ensures easy starts.
Getting Parts for the AE1300H
When you need parts for anything Billy Goat, visit www.billygoatparts.com. We're a certified dealer for Billy Goat and the engine manufacturers they use including Honda, so we can supply you with everything you need to keep your AE1300H running. We can ship your order across the U.S. and Canada.
Lost the documentation to your aerator? We also have manuals for older models like the AE1300H available online.